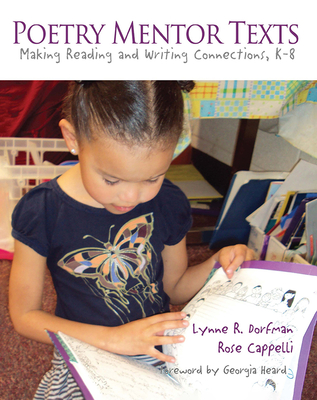 Poetry Mentor Texts
Making Reading and Writing Connections, K-8
Paperback

* Individual store prices may vary.
Description
Building on the success of Mentor Texts and Nonfiction Mentor Texts, authors Lynne R. Dorfman and Rose Cappelli now turn their attention to poetry. In Poetry Mentor Texts, Lynne and Rose show teachers how to use poems in both reading and writing workshops and across content areas. Written in a friendly, conversational tone, this practical book explores a variety of poetic forms, including poems that inspire response, list poems, acrostic poems, persona poems, and poems for two voices—versatile forms of poetry that can be used in every grade.
Each of these poetic forms has its own chapter featuring five poems with applications for both reading and writing classrooms. Reading connections present skills and strategies to move students forward as readers, helping them to build fluency, vocabulary, comprehension, phonemic awareness, and phonics. Writing connections help students and teachers discover their own voices and grow as poets and wordsmiths as they try out many poetic forms. Poems help students at all grade levels learn to better address complex reading texts, offering them a chance to dig deeper and use higher-order thinking skills. Additionally, Your Turn writing lessons provide a scaffold for seamlessly moving from modeling to the shared or guided experience and the transfer to independent work. The Treasure Chest offers a brief annotation of the poems discussed in each chapter as well as companion pieces that extend and enhance the work of the reading and writing classroom.
Poetry Mentor Texts helps teachers across the curriculum guide their students to become not only skilled readers and writers but also more empathetic human beings.
Praise For Poetry Mentor Texts: Making Reading and Writing Connections, K-8…
"This wonderfully laid-out, practical book explores ways of getting students interested in poetry." - CHOICE


"As a veteran teacher, I prided myself on being a 'poetry teacher.' After all, we memorized poems, tried to figure out what they meant, and even devoted a unit to the study of poetry. Haiku, limericks, color poems and fill-in-the-blank poems were just a few types we explored. However, it wasn't until I started reading this book that I discovered the true magnetic force of the written word.  - MiddleWeb

Stenhouse Publishers, 9781571109491, 200pp.
Publication Date: November 7, 2012
About the Author
Lynne, a native of Philadelphia, received her bachelor's and master's degrees in elementary education, her supervisory certificate in elementary education, her reading specialist certificate from LaSalle University, and her educational leadership doctorate degree from Immaculata University. She has thirty-eight years' of experience with the Upper Moreland School District and 25 years of experience gathered in course work and presentation work for the Pennsylvania Writing & Literature Project.
She became a teacher because "I wanted to make a difference and I love working with kids." Like many others, she also "played school" as a child. "I had some great teachers and I wanted to be like them. Especially, Mrs. Steinberg, my sixth grade teacher. There were over 30 kids in my class that year. Mrs. Steinberg was the first teacher who held writing conferences and encouraged us to write for real world audiences. I remember sharing 'My Most Unforgettable Character' with my riding instructor, Mick Warmington. I remember his face while he was reading it. I still get chills when I think about it. That's when I realized the power of the written word. That's when I first dreamed about writing and publishing books and encouraging my future students to do the same."
Lynne is currently literacy a Co-director of the Pennsylvania Writing and Literature Project; adjunct professor for Arcadia University; and a legacy ambassador/tour guide for Pearl S. Buck International. She also does independent consulting work for the PA Writing Project and serves on the board for Chester County Reading Association as well as the board for Eta Chapter of Alpha Delta Kappa. For the past six years, Lynne has facilitated a senior citizen writing group for Upper Moreland Township through Upper Moreland School District.
Her latest book is a collaborative work with her colleague, Diane Dougherty. It targets grades K-6 and demonstrates how to embed grammar and mechanics instruction throughout the day. "We think that grammar matters, but we don't believe in workbooks and isolated lessons. We think the teaching of grammar should be both explicit and implicit. Every day teachers need to tuck in grammar and mechanics wherever and whenever it is applicable. That means your modeling or discussion might occur in social studies as easily as it might occur in writing and reading workshop."
Lynne co-authored three books with friend and colleague, Rose Cappelli. "We based everything on classroom samples and our work with children. An important part was including anecdotes--advice we received from Shelley Harwayne. It helped to keep a notebook of our ideas."
Lynne describes her approach to professional development as hands on and interactive, using the gradual release of responsibility model. "Very practical and user-friendly--let's take it right back to the classroom."
Lynne has two goddaughters and three Welsh Corgi dogs. She recently acquired a husband, Ralph, who has the patience of a saint. "He supports me in all my endeavors and is my best friend." Lynne loves to plant flowers, read books, write poetry, and spend time at the seashore with her husband, friends, and goddaughters. She taught herself how to play the guitar and loves the old folk songs written by Peter, Paul, and Mary and Pete Seeger. She especially loves the Rolling Stones, the Beatles, Bob Dylan, Rod Stewart, James Taylor, Simon and Garfunkel, Jim Morrison, and Gordon Lightfoot.
Rose comes from a family of musicians and teachers, both of which have greatly influenced her life. A volunteer job in high school led her to pursue work with hearing and language impaired children. But she knew that in order to be successful with this population, she needed to better understand the relationship of language acquisition to reading and writing. This led her to become a reading specialist as well as to her involvement with the PA Writing and Literature Project.
She received her bachelor's degree in Deaf Education from Pennsylvania State University and her master's degree in reading from West Chester University. She also holds an elementary certification from Immaculata University. Rose has worked as a reading specialist in the West Chester Area School District and as a teacher consultant and course coordinator at the Pennsylvania Writing and Literature Project.
Her approach to staff development follows the premise of "teachers teaching teachers" which is the basis of the work done by PAWLP. "I want to bring what I have learned in the classroom to my work with teachers, so all the things I suggest are classroom tested, and the teaching beliefs I have formed come from my work with children. I have been greatly influenced by the work of Regie Routman, Lucy Calkins, Donald Graves, Katie Wood Ray, and others who I consider my mentors and who have guided my practice and understandings.
"I think the best way to approach staff development is to guide teachers in reflecting on their own practice, give them the opportunity to try out some new strategies, share thoughts and ideas, and then think about where the new ideas could fit in with or change their beliefs. Reflection is a big part of working with teachers.
"The writing of Mentor Texts was truly a collaborative process with my friend and colleague, Lynne Dorfman. While we worked on some parts separately, I think our best work came on the days we spent sitting in my sunroom pouring through countless children's books, and the conversations that ensued. Working together, we had the opportunity to question and search for answers, clarify understandings, and think about the best way to present ideas to teachers so that they could try them out with their students. And that brings me back to reflection. Writing the book gave us time to reflect and put into words the strategies we have found to be successful in using with our students. We followed the same process in writing Nonfiction Mentor Textsand Poetry Mentor Texts. With all three projects, the writing journey was a learning journey."
Rose is married with two grown children, Brian and Ann. She and her husband, Allan, live in Chester County, PA.  She enjoys gardening and golf, and of course, reading. "I have been trying to learn how to play golf for a few years now. Going through the process of learning something new that doesn't come easily or naturally to me has given me new insights into what some kids go through who struggle with reading and/or writing. I have been reminded of the whole learning process and the importance of modeling and guided practice."
or
Not Currently Available for Direct Purchase