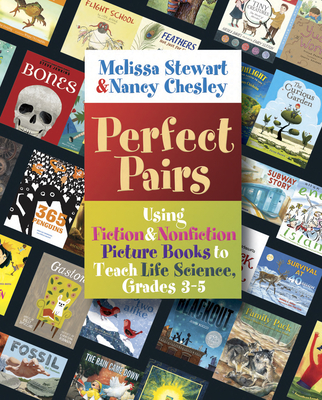 Perfect Pairs, 3-5 (Paperback)
Using Fiction & Nonfiction Picture Books to Teach Life Science, Grades 3-5
Stenhouse Publishers, 9781571109590, 350pp.
Publication Date: November 16, 2016
* Individual store prices may vary.
Description
Hands-on lessons can be fun and compelling, but when it comes to life science, they aren't always possible, practical, effective, or safe. Children can't follow wolves as they hunt elk, visit a prehistoric swamp, or shrink down to the size of a molecule and observe photosynthesis firsthand.  But they can explore a whole world of animals, plants, and ecosystems through the pages of beautifully illustrated, science-themed picture books.
Perfect Pairs, which marries fiction and nonfiction picture books focused on life science, helps educators think about and teach life science in a whole new way. Each of the twenty lessons in this book is built around a pair of books that introduces a critical life science concept and guides students through an inquiry-based investigative process to explore that idea—from life cycles and animal-environment interactions to the inheritance of traits and the critical role of energy in our world.
Each lesson starts with a "Wonder Statement" and comprises three stages. "Engaging Students" features a hands-on activity that captures student interest, uncovers current thinking, and generates vocabulary. The heart of the investigative process, "Exploring with Students," spotlights the paired books as the teacher reads aloud and helps students find and organize information into data tables. "Encouraging Students to Draw Conclusions" shows students how to review and analyze the information they have collected. Bringing high-quality science-themed picture books into the classroom engages a broad range of students, addresses the Performance Expectations outlined in the Next Generation Science Standards, and supports the goals of the Common Core State Standards for English Language Arts.
Even if you are science shy, Perfect Pairs can help you become a more confident teacher whose classroom buzzes with curious students eager to explore their natural world.
About the Author
Melissa Stewart is the award-winning author of more than 150 science books for children. She has always been fascinated by the natural world and is passionate about sharing its beauty and wonder with readers of all ages.
After earning a bachelor's degree in biology from Union College in Schenectady, NY, and a master's degree in science journalism from New York University, Melissa worked as a children's book editor for nine years before becoming a full-time writer in 2000. She has written everything from board books for preschoolers to magazine articles for adults.
Melissa believes that nothing brings nonfiction writing to life like firsthand research. While gathering information for her books, she has explored tropical rain forests in Costa Rica, gone on safari in East Africa, and swum with sea lions in the Galapagos Islands.
When Melissa isn't writing or exploring the natural world, she spends time speaking at schools, libraries, nature centers, and educator conferences. She serves on the Board of the Society of Children's Book Writers and Illustrators and the Keene State College Children's Literature Festival.
Nancy Chesley was an elementary teacher for 26 years and a K-5 science and literacy specialist for six years. She won the Presidential Award for Excellence in Elementary Science Teaching in 2000 and the Milken Foundation National Distinguished Educator Award in 2002.
Nancy received her bachelor's and master's degrees in education from the University of Southern Maine. She says she wanted to become a teacher because she enjoyed her own elementary education experience and working with children. She explains that she enjoys teaching because of the opportunity to encourage children to seek, find, and consider multiple options and solutions when facing challenges in reading, math, and science, and supporting them as they become increasingly confident in their own abilities as learners.
Praise For Perfect Pairs, 3-5: Using Fiction & Nonfiction Picture Books to Teach Life Science, Grades 3-5…
Synopsis: Hands-on lessons can be fun and compelling, but when it comes to life science, they aren't always possible, practical, effective, or safe. Children can't follow wolves as they hunt elk, visit a prehistoric swamp, or shrink down to the size of a molecule and observe photosynthesis firsthand. But they can explore a whole world of animals, plants, and ecosystems through the pages of beautifully illustrated, science-themed picture books.
 
The collaborative work of Melissa Stewart (an award-winning author of more than 150 science-themed nonfiction books for children) and Nancy Chesley (a former elementary school teacher for twenty-six years and a K-5 science and literacy specialist for six years), "Perfect Pairs: Using Fiction and Nonfiction Picture Books to Teach Life Science, Grades 3-5", showcases fiction and nonfiction picture books focused on life science, helps educators think about and teach life science in a whole new way.
 
Each of the twenty lessons comprising "Perfect Pairs" is built around a pair of books that introduces a critical life science concept and guides students through an inquiry-based investigative process to explore that idea-from life cycles and animal-environment interactions to the inheritance of traits and the critical role of energy in our world.
 
Each lesson starts with a "Wonder Statement" and comprises three stages. "Engaging Students" features a hands-on activity that captures student interest, uncovers current thinking, and generates vocabulary. The heart of the investigative process, "Exploring with Students," spotlights the paired books as the teacher reads aloud and helps students find and organize information into data tables. "Encouraging Students to Draw Conclusions" shows students how to review and analyze the information they have collected.
 
Bringing high-quality science-themed picture books into the classroom engages a broad range of students, addresses the Performance Expectations outlined in the Next Generation Science Standards, and supports the goals of the Common Core State Standards for English Language Arts.
 
Critique: Thoroughly 'user friendly' in organization and presentation, "Perfect Pairs: Using Fiction and Nonfiction Picture Books to Teach Life Science, Grades 3-5" is an extraordinarily informative and practical instruction manual and textbook that is unreservedly recommended for college and university Teacher Education reference collections in general, and Elementary School Classroom Instruction supplemental studies reading lists in particular.
 
Julie Summers
Reviewer