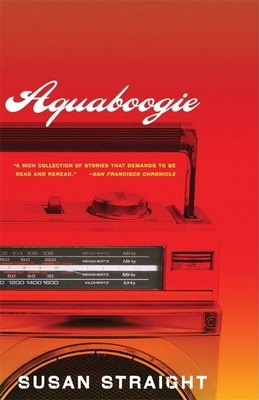 Aquaboogie
Paperback

* Individual store prices may vary.
Description
"Aquaboogie is a love story in fragments . . . A book by a writer whose love for her characters infuses her work with the dignity and urgency they so clearly deserve." --The New York Times Book Review
Full of defiance and tenderness, Aquaboogie chronicles the triumphs and tragedies of the residents of Rio Seco. In "Aquaboogie," art student Nacho finances his class out East by working as a janitor, subject to torment by his white coworkers. In "Back," elderly Pashion sleeps wrapped around the body of her dying husband L. C., all the while recalling their 49 years of marriage and thinking about the sleeping pills she has secreted away for when life becomes unbearable. In "The Box," Shawan carries her radio everywhere; since her best friend was gunned down, music is the only thing that can get her through the day. In these and other stories in this powerful collection, the author gives voice to those on the margins while demonstrating her great affection for her characters.
Milkweed Editions, 9781571310583, 196pp.
Publication Date: April 16, 2007