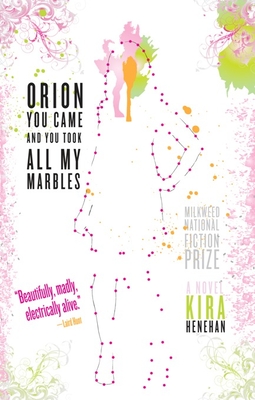 Orion You Came and You Took All My Marbles
Paperback

* Individual store prices may vary.
Other Editions of This Title:
Paperback, Large Print, Large Print (11/1/2010)
Description
Immediately captivating, Orion You Came and You Took All My Marbles introduces readers to Finley, an investigator of indiscernible origins and prowess who is assigned to a mysterious Professor Uppal and his puppets. The nature of the investigation isn't clear, but Finley nonetheless forges ahead, with occasional assistance from her colleagues Murphy, The Lamb, and Binelli, as well as the professor's beautiful daughter and her sinister boyfriend. The investigation circles in on itself until Finley realizes that she may be close to discovering the truth about her forgotten life. Both whimsical and deeply serious, Orion You Came and You Took All My Marbles casts a shadow that touches on literary novels, noir, and philosophical pursuits, bringing them all into the singularity of existence itself.
Praise For Orion You Came and You Took All My Marbles…
"Henehan weaves a delicious plot of self-discovery as if in a dreamlike state. Each new development reveals a change in Finley's own existence and resets the very world of the novel itself." BUST

"There is a noirish tinge to the plot, which involves a secretive investigation; the heroine, Finley, is certainly hardboiled, the characters she encounters mysterious in their motivationsbut the tone is closer to Lewis Carroll than Raymond Chandler. (Alice in Wonderland-like touches include a Quadrille, a rum-raisin cake, and satirical absurdities including send ups of communes and performance art.) The meandering narrative is subordinate to sprightly wordplay and stylistic elegance, but contextual meaning isn't sacrificed. . . . Funny, fanciful, and kinetic, this work earns its place in any collection of experimental fiction." Foreword

"In playfully measured prose, Henehan's poignant farce evokes Beckett and her world is as funny and inventive as that of George Saunders, but her bold voice and tenderness make for something entirely original, entertaining, and well worth the read." Booklist

"An impressionistic tale propelled by Henehan's gorgeously arch prose and a constant stream of droll humor. There's no doubt that Henehan is a talent."Publishers Weekly

"A very intriguing novel filled with insistent rhythms and syntactical playfulness. Henehan's precision and obvious delight with language make the voice of this novel wonderful company. One is reminded of certain European writers like Beckett or Bernhard, but Henehan has also made somethingfunny, ominousof her own."Sam Lipsyte

"Orion You Came and You Took All My Marbles is not just smashingly titled, it is also beautifully, madly, electrically alive. Beware of its puppets. Watch out for Murphy. Keep track of The Lamb. Consider Uppal. Question Finley. Here is worthy work for the fingers, the heart, the eyes, the mind."Laird Hunt, author of Ray of the Star and The Impossibly

"Kira Henehan has reached into the wheezing carcass of the traditional detective story and relieved it of all its bones and logic. The result is a novel unlike anything I've read before: hilarious, severe, baffling, and sometimes so far over my head that I can only see a distant glow."Ben Marcus, author of Notable American Women
Milkweed Editions, 9781571310750, 256pp.
Publication Date: May 4, 2010