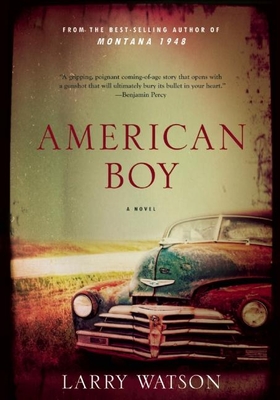 American Boy (Paperback)
Milkweed Editions, 9781571310958, 249pp.
Publication Date: July 17, 2012
October 2011 Indie Next List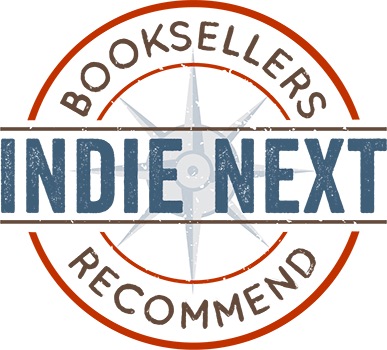 "Pure. Simple. Classic. Little more needs to be said about Larry Watson's utterly breathtaking coming-of-age novel featuring two high school chums, Johnny Dunbar and Matthew Garth. This novel takes a fresh look at that time of life, the teen years, when everything happens so suddenly and with such ferociousness -- a time of intensity, immediacy, and raw emotions. Watson captures it all in this wonderful novel. I recommend it without reserve to every reader who appreciates life and fine literature."
— Nancy Simpson, The Book Vault, Oskaloosa, IA
View the List
Description
We were exposed to these phenomena in order that we might learn something, but of course the lessons we learn are not always what was intended.

So begins Matthew Garth's stor of the fall of 1962, when the shooting of a young woman on Thanksgiving Day sets off a chain of unsettling evens in Willow Falls, Minnesota. Matthew first sees Louisa Lindahl in Dr. Dunbar's home office, and at the time her bullet wound makes nearly as strong an impression as her unclothed body. Fueled over the following weeks by his feverish desire for this mysterious woman and a deep longing for the comfort and affluence that appears to surround the Dunbars, Matthew finds himself drawn into a vortex of greet, manipulation, and ultimately betrayal.
About the Author
Larry Watson is the author of seven widely-acclaimed novels, including the best-selling "Montana 1948," which was awarded the Milkweed National Fiction Prize, a Best Book citation by the American Library Association, short-listed for IMPAC Dublin International Award, and published in ten foreign editions. He lives in Milwaukee, Wisconsin with his family.
Praise For American Boy…
Esquire Top 9 Books of the Year
Midwest Booksellers Choice Award Finalist
Booklist Editor's Choice 2011 Best Book
Publishers Weekly 20 Top Indie Sleeper Hits
WBEZ Chicago Top 10 Books of 2011


...powerful and exquisitely crafted...Watson's portraits of small town life and the people who live itmostly during the 1940s and 1950sare compassionate and true."
Steve Mills, Chicago Tribune's Printers Row

There are a handful of writers I push on everyone I meet, and Larry Watson is one of them. For the past twenty years has quietly penned some of the wisest, most powerful novels in my library, and I am thrilled to make room on the shelf for his latest, a gripping, poignant coming-of-age story that opens with a gunshot that will ultimately bury its bullet in your heart. American Boy is an American classic."
Benjamin Percy, author of The Wilding and Refresh, Refresh

Larry Watson's latest book, American Boy, may be his best yet. With the patient skill of a seasoned writer, Watson tells an engaging coming-of-age story of a young man in Willow Falls, Minnesota during the 1960s. Youthful passions, heartbreaks, loyalties and moral uncertainties are all rendered in vivid color."
David Rhodes, author of Driftless

[Watson will] harvest a bumper crop of readers this autumn."
Milwaukee Journal Sentinel

[Watson] spins charm and melancholy around the same fingers, the result a soft but urgent rendering of a young man coming of age in rural America that is recognizable to even those of us who were never there."
Denver Post

Watson is sure-footed on familiar ground in American Boy. . . . [he's] made something of a specialty of that space where teenagers struggle between hormonal urges and moral decisions as they grope toward adulthood. His evocation of that difficult passage feels as sure as his evocation of small-town life in the upper Midwest more than one generation ago. . . As convincing as it is lonely and bleak."
Billings Gazette

"Elemental mystery...American Boy seems oddly 1930's in its noir-like soul. Early 60's optimism, Vietnam or pot doesn't touch this town. But perhaps that's the point--this place is that insular....This is a heroic coming of age story. I was riveted by its layered mystery."
Susan Weinstein, NotAnotherBookReview.blogspot.com

Watson has penned some of the best contemporary fiction about small-town America, and his new novel does not disappoint. . . . With his graceful writing style, well-drawn characters, and subtly moving plot, Watson masterfully portrays the dark side of small-town America. Highly readable and enthusiastically recommended."
Library Journal (starred review)

Eighteen years ago, Milkweed published Watson's breakthrough novel, Montana 1948; now the author returns to Milkweed with another powerful coming-of-age story about a teenage boy [Matthew Garth] being shocked into maturity by a moment of sudden and unexpected violence. . . . Like Holden Caulfield trying to catch innocent children before they fall off the cliff adjoining that field of rye, Matthew struggles to save the Dunbars and, in so doing, save himself. He fails, of course, but that's the point of much of Watson's always melancholic, always morally ambiguous fiction: coming-of-age is about failure as much as it is about growth."
Booklist (starred review)

Watson's new novel about a young man's coming-of-age in rural Minnesota during the early '60s never veers off course."
Publishers Weekly

Watson's sixth novel resonates with language as clear and images as crisp as the spare, flat prairie of its Minnesota setting. . . A vivid story of sexual tension, family loyalty and betrayal."
Kirkus

A true, realistic, and intelligent novel of a teen-aged Minnesota boy in the early 1960s, in which a woman with a gunshot wound captures young Matthew Garth's imagination and continues to hold it in a fierce grip. Young Matthew first encounters Louisa Lindahl in the office of the town doctor, at whose home he spends much of his time. Along the way, Matthew endeavors to work his way into Louisa's affections, while pursuing typical teenage pursuits with Johnny Dunbar, the doctor's son. While Matthew ultimately finds out the answers to most of the questions he has about this mysterious young woman, many of these answers aren't the ones he wants. Watson does a wonderful job of peering under the masks of these small town folks and helping us see what their real selves are."
Carl Hoffman, Boswell Book Company

Nobody knows the heartland better than Larry Watson and no one is better at conveying its stark landscape and the stark truths that can arise from living in it. The story of young Matt Garth in rural Minnesota in 1962 is not just one of coming of age but also of human frailty and life altering decisions. Watson perfectly evokes an era while telling a story that is timeless."
Bill Cusumano, Nicola's Books

Pure. Simple. Classic. Little more needs to be said about Larry Watson's utterly breath-taking coming-of-age novel featuring two high school chums, Johnny Dunbar and Matthew Garth. This novel takes a fresh look at that time of life, the teen years, when everything happens so suddenly and with such ferociousness: the fist crashing out of nowhere into your unsuspecting chin; the physical sick feeling as your heart breaks upon learning that your' girl isn't; that head-to-toe rush of hot blood as you gaze knowingly at your first love; the utterly helpless feeling as your vehicle spins round and round over the black ice. Yes, youth, a time of intensity, immediacy, raw emotions, and suddenness. We remember it well. Now Larry Watson captures it all in this wonderful novel, American Boy. This book will becomeisa classic. I recommend it without reserve to every reader who appreciates life and fine literature."
Nancy Simpson, Book Vault

"[Watson] spins charm and melancholy around the same fingers, the result a soft but urgent rendering of a young man coming of age in rural America that is recognizable to even those of us who were never there." Denver Post
Advertisement