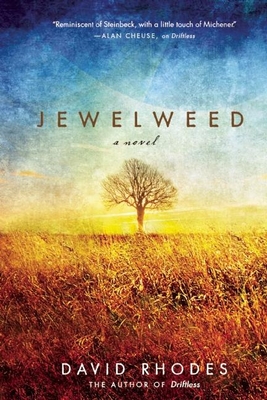 Jewelweed (Hardcover)
Milkweed Editions, 9781571311009, 449pp.
Publication Date: May 14, 2013
* Individual store prices may vary.
May 2013 Indie Next List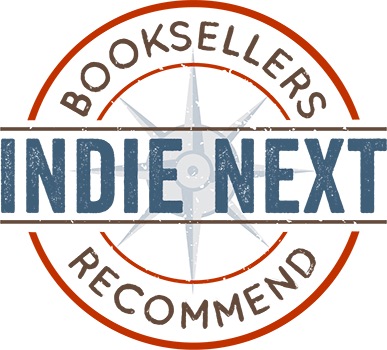 "Can people start over? Jewelweed proves many can in spite of lost loves, war and imprisonment. Blake Bookchester has just been paroled from a system that promotes postmodern slavery and a war on minorities and the poor. He returns to his hometown, Words, Wisconsin where he will ty to reconcile with his past and forge a new future. Other people who form this small community will grab your heart and not let go. For one, August, a teen, but wise beyond his years, spouts profound remarks such as: 'our planet is turning into a 'new region of hell' with its senseless wars, torture practiced openly, needless starvation, homelessness, higher and higher suicide rates, pollution, species extinction, and the greedy arrogance of the thousand hired thieves in government.' You will love Florence, who speaks 'at the speed of ice melting at the North Pole'; Wally who writes down items he will miss when he dies; Danielle, aka Dart, abused as a young girl doing her best to raise her son Ivan; Winnie, the town's minister and most of all, a wild boy. Is he real or an hallucination? Jewelweed, a plant that looks like little pieces of jewelry strung together on heavy green thread, is an apt description of the people of Words, all tied together and realizing the importance of community to their individual lives. You won't want to miss a word of David Rhodes' magical, soul-felt novel. Highly recommended and may he continue his deeply moving story-telling."
— Karen Briggs, Great Northern Books and Hobbies, Oscoda, MI
View the List
Description
The beloved author of Driftless delves into the heart of rural America in this unforgettable portrait of community. When David Rhodes burst onto the American literary scene in the '70s, he was hailed as "a brilliant visionary" (John Gardner). In Driftless, his "most accomplished work yet" (Joseph Kanon), Rhodes made Words, Wisconsin, resonate with readers across the country. Now with Jewelweed this beloved author returns to the same out-of-the-way community and introduces a cast of characters who must overcome the burdens left by the past. After serving time for a dubious conviction, Blake Bookchester is paroled. As Blake attempts to adjust, he reconnects with Danielle Workhouse, a single mother whose son, Ivan, explores the woods with his precocious friend, August. While Danielle goes to work for Buck and Amy Roebuck in their mansion, Ivan and August befriend Lester Mortal, a recluse who lives in a melon field; a wild boy; and a bat, Milton. These characters -- each flawed, deeply human, and ultimately universal -- approach the future with a combination of hope and trepidation. Jewelweed offers a vision in which the ordinary becomes mythical, the seemingly mundane transformed into revelatory beauty.
About the Author
David Rhodes grew up near Des Moines where he attended a Quaker School. He dropped out of Beloit College in the 60's and eventually graduated from Marlboro College in Vermont. After receiving an MFA in Writing from the University of Iowa Writers' Workshop in 1971, he published three novels in rapid succession to acclaim: The Last Fair Deal Going Down (Atlantic/Little, Brown, 1972), The Easter House (Harper & Row, 1974), and Rock Island Line (Harper & Row, 1975). A motorcycle accident in 1976 left him paralyzed from the chest down. He continued writing, but did not publish again until 2008 when his novel, Driftless, was published. It received a Milkweed National Fiction prize, was read on Wisconsin Public Radio, and was chosen as an All Iowa Reads selection. Milkweed has reissued all of his previous books. He currently lives with his wife, Edna, in Wisconsin.
Praise For Jewelweed…
"[A] rhapsodic, many-faceted novel of profound dilemmas, survival, and gratitude... Rhodes portrays his smart, searching, kind characters with extraordinary dimension as each wrestles with what it means to be good and do good."
Booklist (starred review)

I liked Driftless, but his emotionally rich new novel, Jewelweed, a sequel of sorts, is even better. The novel emits frequent solar flares of surprise and wonder."
The Cleveland Plain Dealer

"A master of nuance, Rhodes picks up on those 'inaudible rhythms' that drive human actions: fear, regret, friendship, yearning, and a desire for forgiveness."
The Milwaukee Journal Sentinel

[A] deeply moving meditation on the resonance of each individual life on a small Wisconsin town."
Wisconsin State Journal

Jewelweed is a novel of forgiveness, a generous ode to the spirit's indefatigable longing for love."
Minneapolis Star Tribune

Jewelweed is another book that all Iowa should read."
Iowa Press-Citizen

"A benevolent sort of rural American magical realism.... profound."
Publishers Weekly

"Rhodes continues one of the great literary comebacks of all time, with this story of a parolee trying to adjust to living on the ragged edge along with the people he meets."
thirty-two magazine

"Jewelweed is an ode to 'ditch beauty'the small, fragile bursts of bright hope that unfurl even in the unlikeliest of places. It's a novel that revels in the nuances of ordinary lives and crafts beauty from a loneliness that seems inescapable. More than anything, this is a book that will make readers fall back in love with good writing."
ForeWord Reviews

Bookseller Praise:

Rhodes masterfully paints their many layered complexity in language so vivid and kind, it nearly renders the reader breathless. This is a damn fine novel."
Sheryl Cotleur, Copperfield's Books, Sebastopol, CA

Jewelweed is a remarkable piece of storytelling, soul-felt and deeply moving."
Mark LaFramboise, Politics & Prose, Washington, DC

"From philosophical prison inmates to childhood-haunted truckers, Rhodes's melange of characters feels so real, you'd swear you lived among them."
Emily Crowe, Odyssey Bookshop, South Hadley, MA

With Jewelweed, David Rhodes has once more produced a moving, deeply thoughtful novel, of poor people doing difficult things often against their best interests in a little town in the upper Midwest. He is the same writer, maybe better, as the author ofDriftless. A lovely book.
Paul Ingram, Prairie Lights, Iowa City, IA

"Skillfully wrought...Jewelweed is told in flawless prose with an endlessly interesting narrative. My return to Rhodes' world reminds me that it has been too long since my last visit."
Sharon K. Nagel, Boswell Book Company, Milwaukee, WI

"Jewelweed, a plant that looks like little pieces of jewelry strung together on heavy green thread, is an apt description of the people of Words, all tied together and realizing the importance of community to their individual lives. You will not want to miss a word of Rhodes' magical, soul-felt novel."
Karen Briggs, Great Northern Books & Hobbies, Oscoda, MI

"David Rhodes takes seemingly mundane events, and makes them magic. Jewelweed has been my first foray into his writing, but will certainly not be my last."
Jack Hannert, Brilliant Books, Traverse City, MI

Set in the same fictional southwestern Wisconsin town as Rhodes' popular Driftless, Jewelweed will be the next great story about this area. It's quite marvelous."
John Christensen, Arcadia Books, Spring Green, WI

"In Jewelweed, David Rhodes tells a fine, thoughtful story with rich and marvelous language."
Jill Webb, The Cottage Book Shop, Glen Arbor, MI

Rhodes builds a homecoming story around the good people of Words, Wisconsin. Be prepared for a wild ride! Oddballs and unlikely alliances are at the heart of this tale of love and risk and redemption."
Ann Woodbeck, Excelsior Bay Books, Excelsior, MN

I read a lot of literary fiction. I chew through it. But the thing about Rhodes is when somebody says, Recommend to me a writer who knows how to write; where I can actually fall in love with the words, where I'm quoting the book,' I know I can go to David Rhodes."
Chris Livingston, The Book Shelf, Winona, MN

I love David Rhodes because he writes about the power of one person to change their world. Quietly changing your landscape for the better, it's the best interpretation of American individualism.
Keri Rojas, Cornerstone Cottage, Hampton, IA


Praise for Driftless:

MILKWEED NATIONAL FICTION PRIZE WINNER
ALL IOWA READS SELECTION 2010

Reminiscent of Steinbeck...with a little touch of Michener...[Driftless] offers deep philosophical and meditative asides."
Alan Cheuse, on NPR's All Things Considered

David Rhodes' new novel, Driftless, is reason to celebrate.[He] has not lost one ounce of the mastery for which he was recognized in the first place."
Kevin Larimer, in a feature on David Rhodes in Poets & Writers

"Driftless is just marvelous."
Paul Ingram, Prairie Lights Bookstore, Iowa City, IA

A fast moving story about small town life."
Jeffrey Trachtenberg, in a feature on David Rhodes in The Wall Street Journal

Driftless is such a rewarding reada surely written, patient book about small town life[It] shares a rhythm with the farming community it documents, and its reflective pace is well-suited to characters who are far more comfortable with hard work than with words....A wry generous book."
Yvonee Zipp, The Christian Science Monitor

His Robert Alman-esque new novel, Driftless, marks his triumphant reemergence in the book world after thirty-three years"
Kera Bolonik, intro to Q&A with David Rhodes in BookForum

"The best work of fiction to come out of the midwest in many years."
Chicago Tribune

"Driftless has been a long time coming, but definitely worth the wait...vividly imagined, shrewd, and compassionate. He is a master at uncovering the extraordinary lives of seemly ordinary people. The characters of his small town rural town become as mysterious, interconnected, and richly idiosyncratic as the landscape they struggle against and embrace. A wonderful novel."
Joseph Kanon

"This novel shows how rural people deal with a world they can't quite control; it echoes the late 19th century's Naturalism, in that sense. It's a beautiful novel that captures the essence of the Midwest perfectly." (five stars)
Patrick Andrews, Age 29, Male, Arlington Heights, IL on Goodreads.com (where it has a rating of 3.94 after 877 reviews)

"Such an uncommon novel...full of nuance, full of threat, full of action, full of sorrow, full of the whole scope of human experience....a very serious, gorgeous, funny and really beautiful novel."
Anna Clark, The Collagist, from her YouTube video

Praise for David Rhodes upon publication in the 1970's:

"One of the best eyes in recent fiction...Nothing in Rhodes' vision is secondhand."
John Gardner, On Becoming a Novelist

"A brilliant writer."
Cleveland Plain Dealer
Book Videos