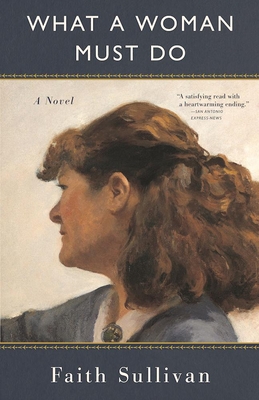 What a Woman Must Do
Paperback

* Individual store prices may vary.
Other Editions of This Title:
Paperback (4/1/2002)
Description
When Celia Canby -- Kate's niece, Bess's mother, and Harriet's cousin -- is killed in a car accident, it's up to Kate and Harriet to raise Bess. Ten years later, on the day of the accident, the local newspaper in Harvester, MN, dredges up the story of the accident for a careless "Way Back When" piece, subjecting the women to another round of grief. Kate, arthritic and stuck far away from the farm she loves, is concerned about Bess. Headstrong and closed off, Bess yearns to escape Harvester before she "goes bad." But when she begins to trace the same path of mistakes her mother made -- a risky relationship with a local married man -- everything seems on the verge of falling apart. In a novel that celebrates the power of what a woman can do, What A Woman Must Do asks timeless questions about love and loss: How does our history define us? How can we let go of it? Should we?

Milkweed Editions, 9781571311139, 208pp.
Publication Date: August 23, 2016
About the Author
Faith Sullivan is the author of seven award-winning novels, including "Gardenias," "The Empress of One," and "The Cape Ann." A demon gardener, flea marketer, and feeder of birds, she is also an indefatigable champion of literary culture and her fellow writers, and has visited with hundreds of book clubs. Born and raised in southern Minnesota, Faith Sullivan lives in Minneapolis with her husband.

"
How is Kate's "forecasting" like Herbert Scanlon's "dabbling in futures"?
How do the characters gamble on the future?
For Kate, love "simply was, like water from a spring." How does longing for love shape the lives of Bess and Harriet? Does it require being loveless to know about love? (p 155)
Marriage plays a pivotal role in the story. How does Kate's experience of marriage differ from Harriet's romantic ideas? What does being married prove to Harriet? To Bess?
For much of her young life, Bess considers hers a normal family. When does the stress of being in a non-traditional family become evident? Consider Kate's role as the head of the household and how her ideas of "what a woman must do" change over time.
Although she came to love her house in Harvester, Kate considered the farm the great love of her life. How does first love of a place shape what feels like home for the characters? Can a place make someone "go bad?" (p 49) In the end, what does the farm represent to Bess?
Familiarity is both a blessing and a curse in Harvester. What assumptions are made about outsiders? How does having a long history comfort and protect the community? How does that collective memory shape these characters?
What is accomplished by Harvester's code of looking away from public displays of private matters? If "scandal was a stain that time did not bleach" (p 27), did Archer and Celia's public behavior permanently taint Bess and Kate's reputation in Harvester? How does this influence their behavior? How does the code affect Doyle Hanlon's behavior?
Harriet observes "women did lose their sanity over men, and men over women. You couldn't call it love, could you?" (p. 16) Does she lose a bit of her sanity over Devore Weiss and her engagement? Does the first encounter with sexual chemistry feel like insanity to Bess? How does the experience influence her ideas about her parents' stories?
"Thrilled by the intimacy of asking personal questions, Bess is stunned by Doyle's sudden departure. Had she said something wrong?" (p 152) What threshold does Bess cross that shifts the precarious balance in their relationship?
"Old age was a forced retreat. You carried with you as much…as you could." (p 99) How does Kate fight back against the ravages of age? Which of her obsessions never subside? Consider her belief that anger had caused her painful arthritis. What is surprising about the portrayal of a sixty-year-old woman in 1952?
What did Kate see in the cards?
Which character experienced the greatest transformation in the story?