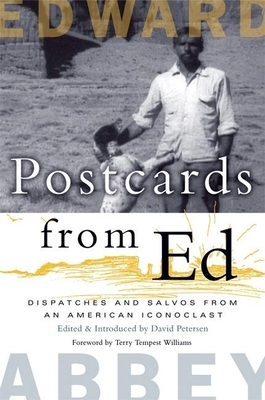 Postcards from Ed (Hardcover)
Dispatches and Salvos from an American Iconoclast
Milkweed Editions, 9781571312846, 296pp.
Publication Date: September 1, 2006
Other Editions of This Title:
Paperback (8/28/2007)
* Individual store prices may vary.
Description
But hell, I do like to write letters. Much easier than writing books." And write letters Ed Abbey did. In his famous or infamous 45-year career, Abbey's cards and letters became as legendary as his books for their wit, vitriol, and ability to speak truth to power. Published here for the first time, the letters offer a fascinating, often hilarious glimpse into the mind of one of America's most iconoclastic and beloved authors. No subject was too banal, too arcane, or too deep for Abbey to expound on: sex, cheerleaders, Mormons, Aspen, and the Bond girls are covered as gleefully as Stegner, Dylan, Chomsky, Buddhism, and betrayal. Whether scolding an editor to simplify (I've had to waste hours erasing that storm of fly-shit on the typescript") or skewering the chicken-hawk proponents of the war in Vietnam, Abbey's righteous indignation gives hope and inspiration to a generation that desperately needs both.