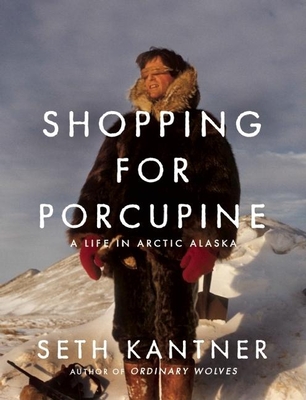 Shopping for Porcupine (Paperback)
A Life in Arctic Alaska
Milkweed Editions, 9781571313119, 240pp.
Publication Date: April 1, 2009
Other Editions of This Title:
Hardcover (6/1/2008)
* Individual store prices may vary.
Description
Seth Kantner's Ordinary Wolves told the story of a white boy raised in a sod igloo on the Arctic tundra. A heartbreaking vision of a vanishing world, it established Kantner as one of the nation's most original and authentic writers. Here, he returns to the setting of his debut novel with an autobiographical account of his own life in a rapidly changing land. Beginning with his parents' migration to the Alaskan wilderness in the 1950s and extending to his own attempts to balance hunting with writing, Kantner recalls cold nights wrapped in caribou hides, fur-clad visitors arriving on dog sleds, swimming amidst ice floes for wounded waterfowl, and his longstanding respect for the old I upiaq ways. Captured in words and images, these details combine to reveal a singular landscape at a pivotal moment in its history. Both an elegy and a romp, the book illuminates a world few will see as Kantner has.
Praise For Shopping for Porcupine: A Life in Arctic Alaska…
Suspense and heartache are matched by wry humor and outrage, and all is infused with Kantner's humility and deep respect for the wild as he decries the practices of high-tech trophy hunters, and maps his own metamorphosis from trapper and hunter to writer and photographer. Crafted with the precision and nerve acquired by living off the land, this is a powerful and important book of remembrance, protest, and warning."
Booklist (starred review)

Inspiring stories of an upbringing in the frosty wilderness. Employing a pleasant, conversational tone, novelist and outdoor photographer Kantner fondly relates his life in Alaska."
Kirkus

A lovely memoir. [Kantner} documents the wisdom of the disappearing Inuit culture his dad revered, and locates its place in modern life. With a sensitive, graceful voice and his own stunning color images, Kantner proves an appealing and talented artist."
Publishers Weekly

In his new memoir, Kantner describes an Alaskan childhood spent trapping wolverines and jigging for grayling with his back-to-the-land parents and, later, on his own."
Outside

Whatever mental picture you have of life in rural Alaska, these autobiographical essays will make you see something different. Kantner's pull-no-punches, head-on stories are raw, beautiful, and unnerving."
Orion

The stories are spell-binding, the writing magnificent."
Missoulian

The definition of life in the Bush has changed radically in the days since he was born and while tradition demands one thing, modern living tends to veer in another direction. Kantner is as conflicted as anyone else on this subject but he bravely asks the questions and voices the concerns that usually go unheard. When you couple this with his observations about the changing climate in his backyard," the book becomes a powerful exploration of our rapidly evolving world and a primer for understanding the dichotomy between the two strongest versions of Alaskan life."
Bookslut.com

Shopping for Porcupine is a book that weaves between worry and worship, to borrow a phrase from its author, Seth Kantner. The autobiographical essays collected here offer a glimpse of Kantner's life in his native north Alaska, portraying a harsh landscape at once torn by progress and brimming with wild blessings."
High Country News

Kantner is a natural (no pun intended) storyteller, and describes the tundra's immensity and timelessness so completely that you imagine you could look out across it and see mammoth."
Bloomsbury Review

One of the most beautiful books you'll ever read truthful, raw, and lovely. The photographs make the sparse Arctic Alaskan landscape monumentally visible and profound, while Kantner's writing imparts heroic dignity to the lives around him. This book is bound to become a classic alongside the works of Loren Eiseley, Edward Abbey, and John McPhee."
Jonis Agee, author of The River Wife and Strange Angels

Full of stunning images, and only some of them are in the photos. Others are in the narrative accounts of traditions colliding, subsistences overlapping, dilemmas mounting. It's all quite unforgettable."
Bill McKibben, author of Deep Economy and The End of Nature

Seth Kantner illuminates an Alaska most of us will never know."
Andrea Barrett, author of Ship Fever and The Voyage of the Narwhal

For all the popularity of the recent bestseller and hit movies about Alaska, Shopping for Porcupine comes from a place you haven't seen and can hardly imagine.
Dan O'Neill, author of A Land Gone Lonesome

Searing honesty, lyric style, and raw emotional power. In Ordinary Wolves, you glimpsed Seth Kantner's life between the words. Here you meet it head-on."
Nick Jans, author of The Last Light Breaking