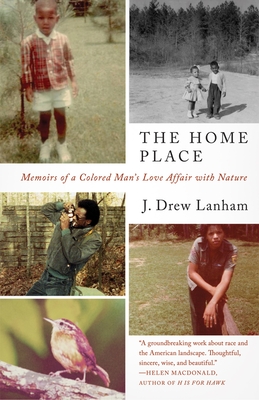 The Home Place
Memoirs of a Colored Man's Love Affair with Nature
Hardcover

* Individual store prices may vary.
Other Editions of This Title:
Paperback (6/13/2017)
Compact Disc (3/5/2019)
MP3 CD (3/5/2019)
Description
"In me, there is the red of miry clay, the brown of spring floods, the gold of ripening tobacco. All of these hues are me; I am, in the deepest sense, colored." From these fertile soils of love, land, identity, family, and race emerges The Home Place, a big-hearted, unforgettable memoir by ornithologist and professor of ecology J. Drew Lanham. Dating back to slavery, Edgefield County, South Carolina--a place "easy to pass by on the way somewhere else"--has been home to generations of Lanhams. In The Home Place, readers meet these extraordinary people, including Drew himself, who over the course of the 1970s falls in love with the natural world around him. As his passion takes flight, however, he begins to ask what it means to be "the rare bird, the oddity." By turns angry, funny, elegiac, and heartbreaking, The Home Place is a remarkable meditation on nature and belonging, at once a deeply moving memoir and riveting exploration of the contradictions of black identity in the rural South--and in America today.
Milkweed Editions, 9781571313157, 232pp.
Publication Date: October 11, 2016
About the Author
Born and raised in rural South Carolina, J. Drew Lanham is an Associate Professor and Certified Wildlife Biologist in the Department of Forestry and Natural Resources at Clemson University. While he is widely published in his scholarly field, "The Home Place" will be his first book for a general audience. He lives in Seneca, SC.
1. In an increasingly urbanized society, what is the value of wild places? Where does our fascination with wild things come from? Why are we drawn to them?
2. Is a connection to the outdoors essential to connect to place? What does this book offer to someone living in an urban environment?
3. Consider Lanham's introduction and the chapter "Birding While Black." How does Lanham consider the ways his identity has been called into question because of where he comes from and the profession he has chosen?
4. How does Lanham's vocation as a scientist and a birder shape his view of his home place? How would his view differ if he had chosen a different profession?
5. Ornithology informs Lanham's view of the natural world and his place in it? How does studying creatures of the air flavor his relationship with earthbound things?
6. Lanham writes, "My hope is that somehow I might move others to find themselves magnified in nature, whomever and wherever they might be" (6). What does being magnified in nature mean to you?
7. Lanham's grandmother, Mamatha, loved gardening and thought very highly of the remedies she made from the plants. From vegetables to flowers, what is it about gardening that gives us joy and fulfillment?
8. Lanham's descriptions of the Home Place and Mamatha's Ramshackle are drawn through his relationships with various members of his family. How much of the places that mean something to us are a result of the people that inhabit them? Is home a physical place or is it the community that occupies that place?
9. The Home Place exists at the intersection of numerous boundaries: ecological, social, racial, economic. His hometown is called Edgefield, after all. Where do you see these edges in the book? How does his engagement with these boundaries form his relationship with his history, his family's land, and what their future as a family looks like?
10. Mamatha has no trouble embracing both the supernatural and the Christian world, and this approach clearly has effected Lanham's approach to the world. Where do you see these kinds of seemingly opposing worldviews that nevertheless intersect usefully in your life?
11. For children today, who are often not allowed to go to a park by themselves, how could we recreate an experience like Lanham's free range childhood on the Home Place?
12. Often our family history affects the way we act in the world ourselves, how does this play out in Lanham's situation: Where the land was worked by his ancestors as slaves and his family history previous to three generations ago is almost entirely unknown?