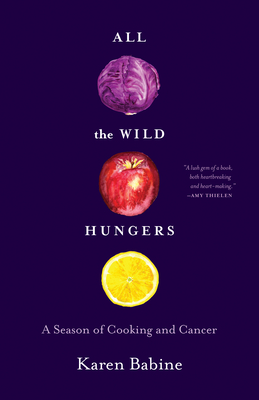 All the Wild Hungers
A Season of Cooking and Cancer
Paperback

* Individual store prices may vary.
Description
"My sister is pregnant with a Lemon this week, Week 14, and this is amusing. My mother's uterine tumor, the size of a cabbage, is Week 30, and this is terrifying." When her mother is diagnosed with a rare form of cancer, Karen Babine--a cook, collector of thrifted vintage cast iron, and fiercely devoted daughter, sister, and aunt--can't help but wonder: feed a fever, starve a cold, but what do we do for cancer? And so she commits herself to preparing her mother anything she will eat, a vegetarian diving headfirst into the unfamiliar world of bone broth and pot roast. In these essays, Babine ponders the intimate connections between food, family, and illness. What draws us toward food metaphors to describe disease? What is the power of language, of naming, in a medical culture where patients are too often made invisible? How do we seek meaning where none is to be found--and can we create it from scratch? And how, Babine asks as she bakes cookies with her small niece and nephew, does a family create its own food culture across generations? Generous and bittersweet, All the Wild Hungers is an affecting chronicle of one family's experience of illness and of a writer's culinary attempt to make sense of the inexplicable.
Milkweed Editions, 9781571313720, 184pp.
Publication Date: January 8, 2019
About the Author
Karen Babine is two-time Minnesota Book Award-winning author of All the Wild Hungers: A Season of Cooking and Cancer and Water and What We Know: Following the Roots of a Northern Life. She also edits Assay: A Journal of Nonfiction Studies. She is currently an assistant professor of English at the University of Tennessee-Chattanooga.
1. What are the different communities of care that are explored across this book?
2. Babine writes that "We process fear—the threat of harm—physically, chemically… But whether fear is physical or emotional remains a grey area" (101). What are the different ways fear takes shape in this book, and how does Babine and her family mitigate that fear?
3. This is a memoir full of metaphors that helps us to approach the unknowable. What are some of the metaphors used to understand illness, and where do those metaphors fall short in the face of the reality of cancer?
4. There is a philosophical thread throughout the book that explores the act of "acknowledging the absurd and living your life in spite of your inability to come to any sort of meaning" (55). What meaning is Babine creating out of the food she cooks for her family? How else is absurdity reckoned with in the book?
5. How does Babine explore the political aspects of both food and medical care? How do class and gender affect or alter the challenges that are born of the politics of food and illness?
6. Color proves important in Babine's search for meaning through cooking, from her bright orange cast-iron named Agnes to the lemon-yellow Dutch oven named Estelle. How does Babine work with the emotional landscape of color throughout the book, and to what effect? What other sensual details (smell, taste, sound) lend meaning to the food she makes?
7. Babine asks, "Can we consume knowing? Can we waste away without it?" (62). What are the different ways knowledge is created, shared, and retained among Babine's family and friends?