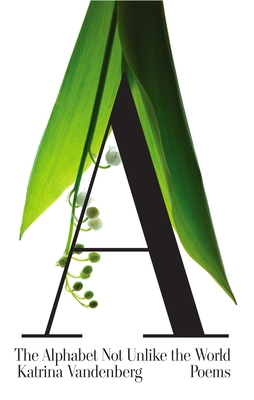 The Alphabet Not Unlike the World (Paperback)
Milkweed Editions, 9781571314468, 87pp.
Publication Date: May 15, 2012
* Individual store prices may vary.
Description
In her accomplished second collection of poems, Katrina Vandenberg writes from the intersection of power and forgiveness. With poems named for letters of the Phoenician alphabet, and employing such innovative forms as the ancient ghazal, Vandenberg deciphers the seemingly indecipherable in this extraordinary becoming of self through language. Moving between the physical and the abstract, the individual and the collective, Alphabet Not Unlike the World unearths meaning--with astonishing beauty--from the pain of loss and separation.
About the Author
Katrina Vandenberg is the co-author, with Todd Boss, of the chapbook entitled On Marriage (Red Dragonfly Press, 2008), and the author of the poetry collection Atlas (Milkweed Editions, 2004). Her poems and essays have appeared in the American Scholar, Post Road Magazine, Orion Magazine, the Iowa Review, and other magazines. She is the recipient of a Fulbright Fellowship, a Bush Artist Fellowship, a Loft-McKnight Award in Poetry, and a Tennessee Williams Scholarship to the Sewanee Writers' Conference. In 2008-09, she was the resident fellow at the Amy Clampitt House in Lenox, Massachusetts. She lives in Saint Paul, Minnesota, with her husband, the novelist John Reimringer.
Praise For The Alphabet Not Unlike the World…
Two poems from the collection read on NPR on Garrison Keillor's "The Writer's Almanac"

Vanderberg [shows] remarkable restraint when telling stories. She trusts her reader enough to leave these spare images uncluttered with explanation. More important, her reader can trust that fine writing and poetic logic will carry these poems as they travel across the wide spaces between what we understand."
-- Elizabeth Hoover, Minneapolis Star Tribune

"Vandenberg's second collection takes the alphabet and its evolution as form and reservoir of associations as its subject...This is a rich subject...The flashes of inspirationif antlers / are trees in silhouette"are genuine.
Michael Autrey, Booklist

"Thanks to Katrina's clear crystalline poems, all women will remember adolescence as it moves through family, and all men will have something new to understand. Vandenberg's calm observations create a harmony of thought in this lyrical and resonant collection. Each poem is a story with a stunning purpose."
Washington Independent Review of Books

Praise for Katrina Vandenberg

Katrina Vandenberg uses playfully intoxicating metaphors to launder the simplicities and eccentricities of life."
--Flaunt


Praise for Atlas

Katrina has always traced the patterns and rhythms she discovers so readily in life. In Atlas, she translates those patterns and rhythms into poetry."
Paula Evans Neuman, The News-Herald

The debut poetry collection of Katrina Vandenberg employs a language and flair for expression that transcends time while drawing upon personal family artifacts, memories, ideas, and friends."
Betsy L. Hogan, Midwest Book Review

What a gift to have these poems in the world! Katrina Vandenberg is an expert witness to the verities, pathologies and moments. The stain of blood on this Atlas is exquisite. Here is the record of an honest pilgrim--a book of treasure maps and vital stats--a mighty work in words."
--Thomas Lynch, author of The Undertaking