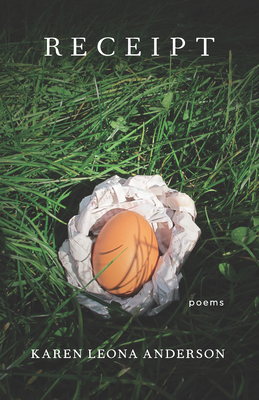 Receipt
Poems
Paperback

* Individual store prices may vary.
Description
"Deft and insightful." --WASHINGTON POST
In her "resonant and witty" (Washington Post) second collection, Karen Leona Anderson transforms apparently prosaic documents--recipes and receipts--into expressions of human identity. From eighteenth-century cookbooks to the Food Network, the recipe becomes a site for definition and disclosure. In these poems, the pie is a cultural artifact and Betty Crocker, icon of domesticity, looms large. And like a theatrical script, the recipe directs action and conjures characters: Grace Kelly at a party. Shoppers at a postapocalyptic mall. From the little black dress ($49.99 at Nordstrom) to an epidural ($25.00 co-pay), Anderson reveals life in the twenty-first century to be equally hampered and enabled by expenditures. Amidst personal and domestic economies, wildness proliferates--bats, deer, ocelots, and fungus--reminding the reader that not all can be assimilated, eaten, or spent.
Receipt is like the lovechild of Anne Sexton and Adam Smith, illuminating the ways in which our lives are both constrained by pieces of paper, and able to slip through the crevices of cultural detritus down to the rich current of animal feeling beneath.
Milkweed Editions, 9781571314727, 96pp.
Publication Date: April 12, 2016
About the Author
Karen Leona Anderson grew up in Connecticut. She received an M.F.A. from the Iowa Writers Workshop, an M.A. from Victoria University in Wellington, New Zealand, and her Ph.D. from Cornell University, where she wrote a dissertation on poetry and science. Her work has appeared in "ecopoetics," "jubilat," "Verse," "Indiana Review," "Fence," "Volt," and other journals. She is an associate professor of English at St. Mary s College of Maryland."