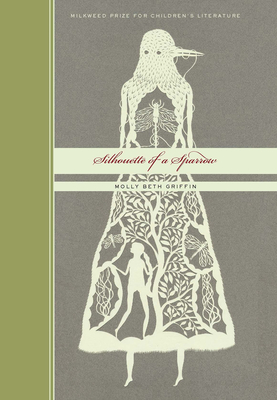 Silhouette of a Sparrow
Hardcover

* Individual store prices may vary.
Other Editions of This Title:
Paperback (8/6/2013)
Prebound (8/6/2013)
Description
WINNER OF THE MILKWEED PRIZE FOR CHILDREN'S LITERATURE
WINNER OF THE 2013 PATERSON PRIZE FOR BOOKS FOR YOUNG READERS
ALA RAINBOW LIST RECOMMENDED BOOK
AMELIA BLOOMER PROJECT LIST RECOMMENDED BOOK
LAMBDA LITERARY AWARD FINALIST
MINNESOTA BOOK AWARD FINALIST
FOREWARD REVIEWS BOOK OF THE YEAR HONORABLE MENTION In the summer of 1926, sixteen-year-old Garnet Richardson is sent to a lake resort to escape the polio epidemic in the city. She dreams of indulging her passion for ornithology and visiting the famous new amusement park--a summer of fun before she returns for her final year of high school, after which she's expected to marry a nice boy and settle into middle-class homemaking. But in the country, Garnet finds herself under the supervision of equally oppressive guardians--her father's wealthy cousin and the matron's stuck-up daughter. Only a liberating job in a hat shop, an intense, secret relationship with a daring and beautiful flapper, and a deep faith in her own fierce heart can save her from the suffocating boredom of traditional femininity.
Praise For Silhouette of a Sparrow…
WINNER OF THE MILKWEED PRIZE FOR CHILDREN'S LITERATURE

Praise for Silhouette of a Sparrow

"The coming-of-age story features a thoughtful protagonist with a gentle voice. Opulent setting descriptions complement interesting historical detail and beautiful language. The motif of different bird species to begin each chapter serves as a neat structural metaphor for various characters in the story (not unlike Annie Proulx's knots in The Shipping News). Garnet's feminist and environmental concerns are relevant for a young contemporary audience without feeling anachronistic to the narrative."
Jackie Reitzes, Minneapolis Star Tribune

"Beautiful...unique story"
McNally Jackson Kids, online

"A very quick and enjoyable read. It gave me a glimpse into a period of time that I was unfamiliar with, and had a range of engaging characters and a believable storyline."
The Lesbrary

"A sweet, quiet coming-of-age story set in a Prohibition-era lakeside resort....This slim tale is a positive breath of fresh air in a market bloated with opportunistic dystopian and paranormal romances. (Historical fiction. 14 & up)"
Kirkus Reviews

"Tenderly and touchingly realized...a pleasant and diverting read. "
Michael Cart, Booklist

"Picture book author Griffin's (Loon Baby) first novel for teens is laced with evocative period details that give readers a taste of what it was like to come of age during the flapper era. Ages 12up."
Publishers Weekly

"Silhouette of a Sparrow is an excellent example of an historical coming-of-age lesbian young adult novel. Written with a deft hand, based in the true history of its setting, and with characterizations that will ring true to any teenager, it is a worthy and enjoyable read for anyone. The writing style is straight-forward so the  plot turns, analogies, and descriptions stand out, adding vibrancy to the story. Take flight with Garnet by reading and undoubtedly enjoying the telling of her story."
Lydia Harris, Lambda Literary

"Rich with emotion and loaded with fascinating details of the flapper era, Silhouette of a Sparrow is a wonderful novel about independence and first love."
Marsha Qualey, author of Come in from the Cold and Just Like That

"Like the birds that young Garnet catalogs and cuts out in paper silhouettes, Molly Beth Griffin's feisty narrator leaves her fledgling self behind as she spreads her wings and learns to fly. Rich in period detail, Griffin links past to present in a compelling novel that is both a love story and the tale of a budding ornithologist. Young readers will respond to Garnet's need to heal her broken family, even as she struggles to follow her dreams. A fine debut novel!"
Liza Ketchum, author of Newsgirl and Where the Great Hawk Flies

"Silhouette of a Sparrow is an extraordinary young adult novel. Molly Beth Griffin has crafted a compelling story with evocative, lyrical prose, and her descriptive language brilliantly captures the atmosphere of the 1920's. 16 year old Garnet Richardson pushes the boundaries in this sensitive coming-of-age story; a journey of self-discovery, independence, and young love. If Sarah Waters (Tipping the Velvet, Fingersmith, The Night Watch) or Julia Anne Peters (Keeping You A Secret, Define Normal, Luna) were to write an historical YA coming-out novel, they would be challenged to deliver a story equal to that of Silhouette of a Sparrow. This is a triumphant debut novel- it's only flaw is that it ended."
Peg O'Donnell, National Accounts Manager, Publishers Group West

Praise for Loon Baby

This lovely picture book addresses a child's fear of abandonment and offers the reassurance of a mother's love."
Booklist

Guaranteed to hit the mark with anyone who's ever felt lost and alone."
Kirkus

While understated, the story has a sturdy quality that should stand up to repeated read-alouds."
Publishers Weekly

This gentle story of a young bird's fears of being abandoned by an out-of-sight parent offers reassurance to children in a similar situation."
School Library Journal

...lyrical narrative..."
Hornbook Guide to Children

"Rich with emotion and loaded with fascinating details of the flapper era, Silhouette of a Sparrow is a wonderful novel about independence and first love." — Marsha Qualey, author of Come in From the Cold and Just Like That
Milkweed Editions, 9781571317018, 189pp.
Publication Date: September 11, 2012
About the Author
Molly Beth Griffin is the recipient of a Minnesota State Arts Grant, a graduate of Hamline University's MFA program in Writing for Children and Young Adults, and a writing teacher at the Loft Literary Center in the Twin Cities. Her first picture book, Loon Baby, came out with Houghton Mifflin Harcourt in 2011. Silhouette of a Sparrow is her first novel. "The purpose of a love story is to fuel change" Five Questions with Molly Beth Griffin by Will Wlizlo on 08/28/2012 It's 1926 and sixteen-year-old Garnet Richardson is off to spend the summer in a Minnesota resort town. What seems at first a hum-drum vacation quickly becomes dramatic: Garnet starts her first job, uncovers secrets about her family's finances, and stumbles into an unanticipated romance with a young flapper from the local dance hall. Equal parts coming-of-age tale and historical fiction, Molly Beth Griffin's Silhouette of a Sparrow is a fresh take on the wonders and woes of adolescence. Here, Griffin talks about teenage love, stirring up childhood memories by writing, and the Roaring Twenties in the Midwest. Milkweed Editions: Garnet's struggle to identify her feelings for the dancer Isabella perfectly encapsulates the awkwardness of adolescence, and her attraction to another girl makes the experience even more poignant. Why did you write about such a nontraditional teenage love story? Molly Beth Griffin: In a novel, as in life, the purpose of a love story is to fuel change. And change comes about when something surprising lifts us out of ourselves. The more surprising that something is, the more powerful it can be. Most stories about GLBT characters focus on the "coming out" aspect, and although I think that has a place--it's clearly an issue queer kids deal with--it shouldn't be the only kind of book out there. Garnet's is a love story--a story in which unexpected love forces a young woman to see herself differently, and become the person she wants to be. Garnet--something of an amateur ornithologist--keeps herself busy by cutting paper silhouettes of birds she sees in the wild. Her two hobbies are vastly different, but speak to her personality: reserved, yet rebellious. How do bird watching and papercutting shape Garnet's world? With most true passions, there are ways to give a nod to one's desires without really committing to them--to do what you love and yet stay within the confines of what is expected of you. And there is a place for that. For instance, we artists have to make our art but also find ways to put dinner on the table. But we have to be careful, because it is so easy to let the shreds of our passions become enough, when they aren't enough. Garnet could cling to the acceptable version of what she wants, but would she ever be happy? And she could abandon the world of duty entirely, but that would come at a cost as well. Garnet's silhouettes satisfy her and limit her at the same time, and create for her the line she must learn to tread ever so carefully. Silhouette of a Sparrow is colored by many social and historical issues, from gender and race inequality to the economic dynamics of the '20s. As Garnet confronts these challenges, we find ourselves applauding her conviction. Where does Garnet's strength in perspective come from? Molly Beth Griffin: I think she is a much stronger person than she'd ever admit to being, endowed with a great moral conviction that stems from empathy for both humans and animals. And although her parents aren't always presented in the best light in the book, I do think that her mother's fierceness and her father's kind heart had a part in forming her. In fiction and in life, what we struggle with is usually what makes us who we are--we can then, in turn, overcome those issues that formed us. What makes historic Excelsior, Minnesota, the right locale for Garnet's wild summer? It, like her, was simultaneously placid and adventurous. It was a tranquil resort town filled with middle-class vacationers, and the home of reckless amusement park rides and a rowdy dance hall appealing to the raucous teenage crowd of the Roaring Twenties. Garnet could go there expecting one thing, and find herself encountering something very different; she could go there one person, and leave someone else. Did writing Garnet's story stir up memories of your own childhood? What, if anything, did she teach you about your younger self? I got to relive my hometown experience through Garnet, colored by a very different time. And I had to move through my own vocational trajectory of high school and college, culminating in my deeply satisfying immersion in an MFA program and the beginning of my writing career. This novel is an attempt to tell my young self not to doubt my passions, not to settle for less, not to choose the safest path but instead challenge myself to take risks and commit to doing what I love. Molly Beth Griffin is the author of the recently published YA novel Silhouette of a Sparrow, as well as the picture book, Loon Baby (Houghton Mifflin, 2011). Milkweed Editions intern Rosie Szychalski assisted with this article.
or
Not Currently Available for Direct Purchase