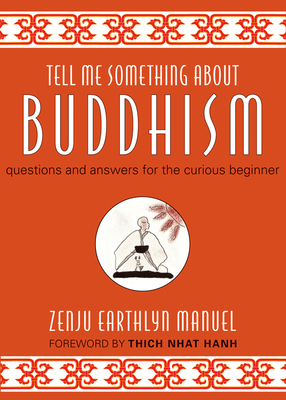 Tell Me Something about Buddhism (Hardcover)
Questions and Answers for the Curious Beginner
Hampton Roads Publishing, 9781571746580, 144pp.
Publication Date: October 1, 2011
* Individual store prices may vary.
Description
For anyone curious about the teachings of Buddha and modern Buddhist practice, Tell Me Something about Buddhism offers the perfect introduction. Written by Soto Zen priest Zenju Earthlyn Manuel and organized in an easy-to-use Question and Answer format, this brief book answers the many common questions people have about Buddhism, everything from who was Buddha to why do monks, nuns, and priests shave their heads.
Manuel, who was been involved in Buddhist practice for over twenty years, after an L.A. upbringing in an African-American Christian church, intertwines throughout the book her personal experiences as one of the first African-American Zen priests. Her life in the Sangha, her teaching in local communities, and her travels around the world meeting other Buddhist practitioners enliven her answers to the most fundamental questions about Buddhist practice. She writes, "Had I not opened myself to the many teachings from the earth, such as Buddha's wisdom, it would have been nearly impossible to survive the fires of my soul." Included are about 20 illustrations by the author in charcoal-and-pencil style.
About the Author
Zenju Earthlyn Manuel is a Soto Zen Priest, Congolese drummer, a visual artist, and contributing author to several books including: Together We Are One, edited by Thich Nhat Hanh, and Dharma, Color, and Culture: New Voices in Western Buddhism. She is the subject of the new film Zenju's Path, which premiered at the Buddhist Film Festival in Amsterdam in 2010.
Praise For Tell Me Something about Buddhism: Questions and Answers for the Curious Beginner…
"Discover and enjoy the freedom that's your birthright. Zenju Earthlyn Manuel asks the important questions…and brings home the answers. This simple book makes the Buddha's timeless teachings real, for all, for here and now. Ordinary life is precious life. I'm grateful for her guidance along the Path." -- Gary Gach, author of The Complete Idiot's Guide to Buddhism and editor of What Book!?: Buddha Poems from Beat to Hip Hop

"Tell Me Something about Buddhism is a dharma gem of great wisdom. Just reading Zenju Earthlyn Manuel's clear, beautiful, and inspiring answers to questions about Buddhist practice quieted and calmed my mind as quickly as the wood striking wood sound of a han calling me to awakening." --Charles Johnson, author of Turning the Wheel: Essay on Buddhism and Writing and Middle Passage, winner of the National Book Award

"In homage to her ancestors, Zenju Earthlyn Manuel shares a very personal journey with many gems of wisdom to help heal the sufferings of racism and other human afflictions. What does it mean to be black and Buddhist?" --Karma Leskhe Tsomo, Sr. Tibetan Nun, founder of Sakyadhita.org

"Drawing on her many years of practice, Zenju Earthlyn Manuel has brought her lived experience to her lucid and compassionate responses to many questions often asked by newcomers to Buddhism. This book is also a heartfelt response to her younger sister's question, 'What does Buddhism have to do with black people?' She says, 'I knew, in the moment my sister asked the question, that the Buddha's teachings had everything to do with me and with every other suffering living being.'" --Sensei Zenkei Blanche Hartman, Sr. Dharma Teacher at the San Francisco Zen Center

"A book as wise and warm-hearted as talking to a good friend over a cup of tea. A Buddhist priest and talented artist-author, Zenju Manuel also shares her own life journey in stories, poems, and drawings with complete tenderness." --Mushim (Patricia) Ikeda, Buddhist teacher and writer

"Zenju Earthlyn Manuel's book Tell Me Something about Buddhism offers both the story of her spiritual rite of passage from a black girl to a Buddhist priest, and a hands-on manual with the basic questions that many are afraid to ask. How does a black woman find life in Buddhism? This book is a warm and compassionate guide of one woman's journey out of oppression to a life of freedom." --Dr. Marlene Jones, contributor to Dharma, Culture, and Color: New Voices in Western Buddhism

"A warm, perceptive, and helpful exploration of Buddhist truths by a Zen priest who brings her awareness of difference and the suffering it causes to her practice of this ancient spiritual path. Earthlyn asks us to step up to our lives and be present for them, to offer compassion to ourselves and others, to expand our vision to allow for a spacious, tender engagement with our precious days and hours." --Sandy Boucher, author of Turning the Wheel: American Women Creating the New Buddhism

"With the effort and application that can only come through disciplined spiritual practice,

Zenju Earthlyn Manuel's Tell Me Something about Buddhism is written with the practical clear-sightedness of the highly polished mirror of transcendence." --Claude AnShin Thomas, Vietnam Veteran & Zen Buddhist Monk, author of the award-winning At Hell's Gate: A Soldier's Journey from War to Peace

"Zenju Earthlyn Manuel's book is a lyrically written description of how the teachings of the Buddha are relevant to all communities in our contemporary world. Her words are simple and yet penetrating, covering philosophy, technique, and the ineffable qualities of experiencing a spiritual life." --Larry Yang, Buddhist teacher

"Thank you, Earthlyn, for presenting such a personally moving, beautiful and artistic book. Your testimony reveals both the diversity and humanity of the Buddha's teachings. This publication is an inspiration calling for many of us to dare such an authentic tasting and expression of the benefits of the Buddhist path." --Larry Ward, Dharma teacher, scholar, practitioner

"I have read many books on Buddhism in the last twenty five years but this one heralds the arrival of a bracingly fresh, talented new teacher. Manuel's ability to distill the teachings and describe in personal, honest terms her own engagement with them makes for a read that is lucid and affecting, unassuming yet universal. Her words land on you as if spoken to you and your situation alone. Her disarming style gives you a sense of inclusion, confidence and empowerment in the prospect of connecting with your own light and wisdom yet she never loses sight of the complicated, often painful realities of our society. Her arrival represents a whole 'turning of the wheel' of Buddhism taking root on Western soil." --Canyon Sam, author of Sky Train: Tibetan Women on the Edge of History, winner of PEN American Center Award

"I appreciate the clear and direct way that Zenju's introduction to Buddhism points to both the North Star and the moon. Those of us who followed the North Star sense that the path of liberation is endless. Of all those who encounter her offering, I especially hope her book reaches those whose cultural legacy has been the longing for freedom." --Sensei Merle Kyodo Boyd, Zen Priest, Dharma teacher at Zen Center of Los Angeles