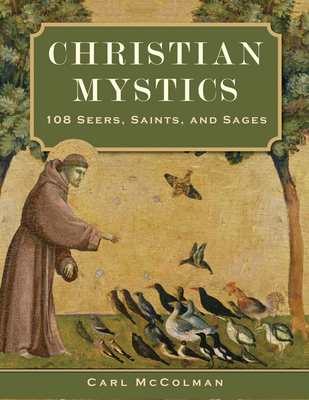 Christian Mystics
108 Seers, Saints, and Sages
Paperback

* Individual store prices may vary.
Other Editions of This Title:
Paperback (11/16/2021)
Description
Christian Mystics: 108 Seers, Saints and Sages celebrates the many types of mystics, visionaries, wisdom keepers, and non-dualists whose spiritual insight and perceptive teachings have illuminated the Christian tradition for the past two thousand years. Looking at 108 mystics from Biblical times to the present day, this user-friendly guide shows how the spiritual masters of the western tradition provide a variety of paths into the transforming heart of God.
Everyone needs teachers and companions to guide and nurture us in developing rich interior lives -- as we seek to respond to the beatifying, deifying love of God. The mystics, whose legacy includes sublime poetry, fascinating autobiographies, and potentially life-changing teachings, can help anyone find greater love, purpose, and a deeper sense of God's presence.
But the mystics are not a uniform bunch, which is why this book is such an essential guide to their lives, wisdom, and essential teachings. Carl McColman, author of The Big Book of Christian Mysticism, organizes the mystics into nine categories: visionaries, confessors, lovers, poets, saints, heretics, wisdom keepers, soul-friends, and unitives. By profiling twelve examples of great mystics and spiritual teachers in each category, the book can help you to learn more about the mystics, and identify those whose writings will be most valuable to you as you pursue your own adventure of falling ever more deeply in love with God.
All of the most famous Christian mystics are profiled here: figures like Teresa of Ávila, Meister Eckhart, Julian of Norwich, John of the Cross, Evelyn Underhill, Thomas Merton, and anonymous masters like the authors of classics like The Cloud of Unknowing or The Way of a Pilgrim. But the book also will introduce you to many lesser known (but truly wonderful) mystical geniuses, such as Beatrice of Nazareth, Gregory of Narek, and Coventry Patmore. Nor does the book shy away from living (or recently living) mystics: visionaries such as Howard Thurman, Sara Grant, Kenneth Leech, and Bruno Barnhart are all included.
This informative volume will appeal to those who buy religious reference books and anyone interested in Christian mysticism or western spirituality. But it's more than just a history book or an encyclopedia: Christian Mystics: 108 Seers, Saints and Sages is a curated celebration of western spiritual wisdom, making it accessible for all seekers today.
Praise For Christian Mystics: 108 Seers, Saints, and Sages…
"A treasure trove of the Christian mystics--seers, saints and sages--presented in all their rich diversity and offered as mentors to guide the contemporary Christian toward an encounter with the presence of God. Christian Mystics serves as both a primer and a resource to inspire and inform." --Dana Greene, author of Evelyn Underhill: Artist of the Infinite Life, The Living of Maisie Ward, and Denise Levertov: A Poet's Life
— Reviews

"Carl offers his readers the great gift of a distillation of 108 wise and worthy guides on the mystical way, each entry offering a spark for further exploration. His categories were especially helpful in finding kindred souls and I love that 'Heretics' were included." --Christine Valters Paintner, PhD, author nine books on the spiritual life including Illuminating the Way: Embracing the Wisdom of Monks and Mystics
— Reviews

"We live to feel alive. We need to know love and joy. And I feel this book could help safeguard -- and encourage -- many tender, precious unfurling wings." --Daniel Ladinsky, bestselling author of The Gift and Love Poems From God
— Reviews

"Christianity is a vast sea of wisdom, and yet most of us are content only to skim the surface. Carl McColman's introduction to Christian mysticism invites us to dive deep and discover a Christianity most of us have never even imagine. If you think Christianity = Church + Sunday School, you need this book!" --Rabbi Rami Shapiro, author of Perennial Wisdom for the Spiritually Independent
— Reviews

"Carl McColman has given us another rich introduction to the Christian mystical tradition, this time though the lives of some of its greatest explorers. This loving and accessible collection of portraits shows us the lush diversity of those who've ventured deep into the presence of God. Visionaries and lovers, poets and others, McColman joins these scalers of the spiritual heights and invites us forward on our own journey. An invaluable resource for both newcomers and those well-versed in the contemplative way." --Susan R. Pitchford, author of Following Francis, God in the Dark, and The Sacred Gaze
— Reviews

"This useful and engaging book is, as the author says, a kind of "speed-dating" introduction to the world of Christian mystics. It's of real value both for beginners and for more experienced readers, who may have overlooked some of the great mystics of the past." --Richard Smoley, author of Inner Christianity: A Guide to the Esoteric Tradition
— Reviews

"Read a page a day of this sacred book, and you will surely tap into the mystic wisdom and love of your own heart." --Robert Holden, author of Life Loves You! and Shift Happens!
— Reviews

"Carl McColman's wise and gentle primer has introduced me to many mystics I've never heard of, as well as renewed my acquaintance with some favorites like Julian of Norwich, Meister Eckhart and Richard Rohr. This book brings mystics down to earth even while bringing readers that much closer to heaven. I will be turning to it many times in the coming years." --Jana Riess, author of Flunking Sainthood
— Reviews

"Christian Mystics is a delightful spiritual banquet, a real feast, giving us a taste of the many mystics throughout time who can serve as our teachers and companions. It is accessible, informative, and inspiring, bringing the mystical tradition to life. This book is a treasure, one to enjoy and return to again and again." --Colette Lafia, author of Seeking Surrender: How my Friendship with a Trappist Monk Taught me to Trust and Embrace Life
— Reviews

"The genius of this book lies in its ability to introduce the reader to the heart of the mystics through tiny, sparkling jewels of their writings. A mystic himself, Carl McColman knows these mystics deeply and selects passages that invite the reader into their profound experience of God." --Margaret Benefiel, author of Soul at Work and The Soul of a Leader
— Reviews
Hampton Roads Publishing, 9781571747303, 288pp.
Publication Date: October 1, 2016
About the Author
Carl McColman is a blogger, author, and spiritual director based in Stone Mountain, Georgia. He is the author of ten previous books exploring spirituality from a variety of perspectives.
or
Not Currently Available for Direct Purchase