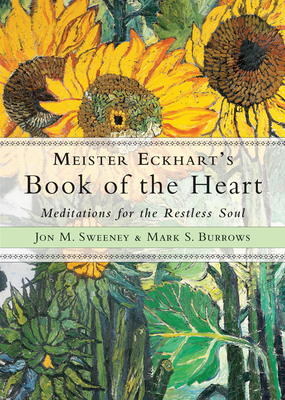 Meister Eckhart's Book of the Heart
Meditations for the Restless Soul
Paperback

* Individual store prices may vary.
Other Editions of This Title:
MP3 CD (2/9/2021)
Compact Disc (2/9/2021)
Description
Meister Eckhart (1260-1328) was a priest, a mystic, and nearly a heretic (he died before the Church court's verdict). In the 20th century, the Roman Catholic Church rehabilitated him and the late Pope John Paul II spoke of his work with fondness.
However, what makes him of particular interest is the fact that he has influenced a wide range of spiritual teachers and mystics both inside and outside the Christian tradition. Erich Fromm, Eckhart Tolle, Richard Rohr, D. T. Suzuki, and Rudolf Steiner have all credited Eckhart as being an important influence on their thought. In addition, his work has influenced the development of 20th century American Buddhism and the Theosophical tradition.
Eckhart wrote at a time--much like our own--when society appeared to be coming apart at the seams. In the midst of all that chaos and uncertainty, he captured the many forms and stages of the love of God, the mystic path, and the journey of transformation--in language so startling that he, too, was often accused of heresy.
Now, seven centuries later, this fresh, stunning rendering of his work translates the essence of one of Christianity's greatest poetic and spiritual voices. Here is a book that conveys the heart of Eckhart's teaching on what it means to love God and embark on an authentic spiritual journey--a journey that is characterized by mystery, paradox, and an embrace of the unknown.
Praise For Meister Eckhart's Book of the Heart: Meditations for the Restless Soul…
"In reading Meister Eckhart's Little Book of the Heart, it again came to mind why I am so drawn to the poetry of Rumi, Hafiz, and Kabir. There is revelation in this book by Burrows and Sweeney. I sincerely feel it will help one look deeper into the eyes of the Christ and know more of God's knowledge and love." --Daniel Ladinsky, international bestselling author of I Heard God Laughing, A Year with Hafiz, Love Poems from God, and other books of poetry
— Reviews

"In the ecstatic spirit of Rumi and Hafiz, Meister Eckhart's words dance and invite the reader into an intimate encounter with the divine. Reading these poems sets the heart ablaze and the spirit soaring." -Christine Valters Paintner, PhD, author of The Artist's Rule: Nurturing Your Creative Soul with Monastic Wisdom
— Reviews

"I think Mark Burrows and Jon Sweeney achieve something quite rare and wonderful here. They make Eckhart clear, concise, and very compelling!" --Richard Rohr, OFM, bestselling author of Falling Upward, Breathing Under Water, and many other books
— Reviews

"If for many of us a dose of Meister Eckhart is like a morning pot of coffee, this concentrated and poetic reduction is like a book full of double espresso shots -- each is about as much as you can take in and metabolize in a day." --Brother Paul Quenon, Abbey of Gethsemani, author of Unquiet Vigil
— Reviews

"Each poem is short, spare, distilled. And each one is footnoted, so the reader might begin in enchantment, then trace the poetry to its source. A sure-footed path toward mastering one of the great masters of the last millennia." - Chicago Tribune
— Reviews
Hampton Roads Publishing, 9781571747648, 240pp.
Publication Date: October 1, 2017
About the Author

Jon M. Sweeney is an independent scholar, critic, and writer. He served as an editor at Jewish Lights and Ave Maria Press. He lives in Shorewood, WI.


Mark S. Burrows is a poet, translator, and professor of religion and literature at the Protestant University of Applied Sciences in Bochum, Germany. His poetry has appeared in Poetry, The Cortland Review, Southern Quarterly, and other periodicals.