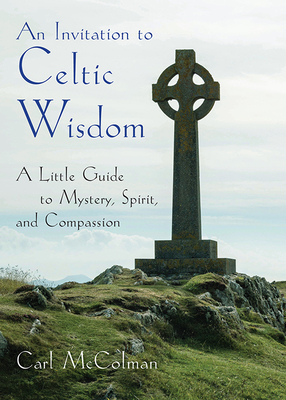 An Invitation to Celtic Wisdom
A Little Guide to Mystery, Spirit, and Compassion
Paperback

* Individual store prices may vary.
Other Editions of This Title:
Paperback (11/16/2021)
Description
Drawing on myth, folklore, poetry, and the tales of Celtic gods and heroes, this little book is an invitation to readers to explore the spiritual tradition of the Celtic peoples--a tradition rooted in hospitality and one that is of growing importance in these increasingly fractured and troubled times.
An Invitation to Celtic Wisdom is divided into three parts:
The Celtic Mystery: In this section McColman illustrates the mystery inherent in the Celtic spiritual path with a brief discussion of the three streams of Celtic spirituality and an introduction to thin places and holy wells.
The Celtic Saints: McColman explores how faith in the Celtic saints is rooted in the desert spirituality of the early Christian tradition. Also included are profiles of Patrick, Brendan, and Bridget.
How to Walk the Celtic Path: In this section the author explores hospitality, spiritual direction story-telling, spiritual power, and the Grail.
McColman has written a splendid intro to a spiritual path that will appeal to both believers and seekers who are interested in all things Celtic.
Praise For An Invitation to Celtic Wisdom: A Little Guide to Mystery, Spirit, and Compassion…
"This book inspires us to say 'yes' to life by giving us tasters of Celtic spiritual treasures. Carl McColman is a true shanachie -- he loves telling stories that make our hearts sing. This book speaks into A New American Dream that I encountered during visits to USA indigenous peoples. A 'return voyage' of humble people like Brendan, re-motivated by the white people's indigenous tribes, will help us to see the Creator's imprints in the earth and her peoples rather than trample them down." --Ray Simpson, Founding Guardian, The international Community of Aidan and Hilda www.aidanandhilda.org, and author of Daily Light from the Christian Saints: Ancient Wisdom for Modern Life and Celtic Christianity (Anamchara Books), Celtic Blessings: Prayers for Everyday Life (Loyola Press), and 30 other titles
— Ray Simpson
"Franciscans recognize the headwaters of our own spiritual tradition in much of Celtic spirituality: nature based, optimistic, experiential, and much more mystical than moralistic. Carl McColman's stunning synthesis here is a great way to dive back into these wonder filled and genuinely refreshing headwaters." --
Fr. Richard Rohr, O.F.M.
, Center for Action and Contemplation in Albuquerque, New Mexico
— Fr. Richard Rohr, O.F.M.,
"This lovely little book invites you to cross the threshold into the wondrous world of Celtic spirituality, beautifully written, it would be a perfect companion for a time of retreat and reflection." --
Christine Valters Paintner, PhD
, author of
The Soul's Slow Ripening: 12 Celtic Practices for Seeking the Sacred
— Christine Valters Paintner, PhD
"With warm hospitality and the voice of a savvy storyteller, Carl McColman invites the reader to the feast of Celtic wisdom and prayer. In these pages you will find a company of Celtic saints to walk with through our sacred landscapes, insights and good humor to guide you and the clear voice of an author who knows the truth and depth of this tradition. Highly recommended" --
Mary C. Earle
, author of
Celtic Christian Spirituality
and
Holy Companions: Spiritual Practices from the Celtic Saints
— Mary C. Earle
"If you have been looking for a cup to dip into the deep well of Celtic spirituality, you have found it in this book. McColman knows better than to try to quench your thirst. Instead, he offers such brimming sips of Celtic storytelling, hospitality, soul friendship, and earthly blessing that you are bound to set off in search of more." --
Barbara Brown Taylor
, author of 
Holy Envy: Finding God in the Faith of Others
— Barbara Brown Taylor
"McColman (
The Big Book of Christian Mysticism
), member of a Lay Cistercian contemplative community under the guidance of Trappist monks, concisely describes Celtic Christianity in this inviting book. Claiming that Celtic sects are often overlooked in Christian texts and considered to be more myth than serious theology, he lays out the lore of the early peoples of Ireland, Scotland, Wales, Cornwall, the Isle of Man, and Brittany. McColman takes short dips into Celtic folklore, Gaelic prayers, and Irish poetry, and charts Celtic spirituality's deep roots in mysticism and storytelling. With traditions such as the three lents (three separate lent periods) and "thin places" (places where the sacred and profane meld), the early Christian Celts structured rituals around hospitality, monastic rites, and everyday compassion. Living at the so-called "edge of waiting" between the physical and spiritual worlds, the Celts honored the mystery of God and viewed the island Éire as situated as the edge of the known world—a fact McColman believes contributes to Celtic emphasis on contemplative prayer and worship of the land. This sound overview of Celtic Christianity will appeal to those with little prior knowledge of Celtic traditions." --
Publishers Weekly
(Nov. 2018)
— Publishers Weekly
Hampton Roads Publishing, 9781571747921, 208pp.
Publication Date: November 1, 2018
About the Author
Carl McColman lives near Atlanta, Georgia, where he is a member of the Lay Cistercians of Our Lady of the Holy Spirit—a contemplative community under the spiritual guidance of Trappist monks. He is the author of Answering the Contemplative Call and The Big Book of Christian Mysticism. Carl frequently leads workshops and retreats on contemplative spirituality at churches, seminaries, monasteries, and retreat centers. Visit him at www.CarlMcColman.net
or
Not Currently Available for Direct Purchase