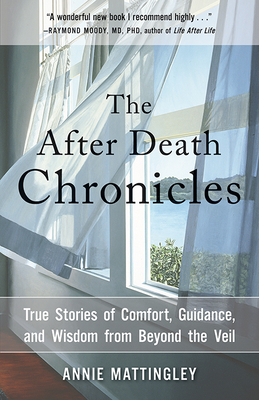 The After Death Chronicles (Paperback)
True Stories of Comfort, Guidance, and Wisdom from Beyond the Veil
Hampton Roads Publishing, 9781571747938, 256pp.
Publication Date: October 6, 2017
* Individual store prices may vary.
Description
This is a book about ordinary people--plumbers, artists and accountants, bakers and beauticians, teachers and lawyers--who have been able to receive communication from loved ones who have died. Included here are accounts from over 80 people across the country who have had contact with the dead through the diaphanous veil that separates them from the living.
The book begins with the story of Annie's deceased daughter speaking to her in the early morning hours. The communication was so transformative that she began to share her experience. Much to her surprise, she discovered that after-death communication is much more common than is normally assumed, and she began to connect with other folks across the country who had similar experiences.
Each of the ten chapters is organized around a specific kind of after-death communication. Included here are chapters on dreams, verbatim conversations, and synchronicity through nature and various other physical manifestations, descriptions of the results of these occurrences, and advice on how to open up to after-death communication. This book inspires in the reader reassurance, courage, healing, and a sense of wonder.
From the author: "The time is ripe for people to recognize the blessing of how frequently our dead beloveds return . . . to confirm the reality that consciousness continues beyond the grave and to remind us that there is much more to death than the physical cessation of breath and pulse. It is time to break the silence, time to stop keeping these powerful healing experiences to ourselves. It is time to allow the experiences themselves, and the positive effect they have on the living."
About the Author

Annie Mattingley has an MA in consciousness studies and has worked as a teacher, magazine publisher, and hospice volunteer. She is now retired and lives in Questa, NM. Visit her at www.anniemattingley.com.

Praise For The After Death Chronicles: True Stories of Comfort, Guidance, and Wisdom from Beyond the Veil…
"Annie Mattingley is the author of a wonderful new book I recommend highly called The After Death Chronicles. Her work offers a collection of different types of personal accounts from people who have experienced convincing communication of one kind or another with deceased loved ones. It is a terrific contribution to the growing body of increasingly credible evidence that our consciousness does indeed continue after death." --Raymond Moody, MD, PhD, author of Life After Life
— Reviews

"In this luminous collection of stories, Annie Mattingly weaves a net of solace and insight for those of us left behind by beloveds who have died. This book blesses those moments of sweet synchronicity when the natural world becomes a portal to the place where our loved ones have gone, and through which they remain ever available to us. The After Death Chronicles reminds us that our task is simply to be present for these encounters and allow ourselves to harvest countless gifts from beyond the veil." --Mirabai Starr, Translator of Dark Night of the Soul: John of the Cross, and Author of Caravan of No Despair: A Memoir of Loss and Transformation
— Reviews

"You don't read this book, you savor it: every morsel of it, every tear, every laugh, every pulse-pounding story from people so real you feel yourself akin to them. And you fall in love with Annie, snuggle right up to her and share your uttermost feelings and fears. The After Death Chronicles is not like any other afterdeath/afterlife book, nor is it really about mediums or contact with the dead. It's about real folk, Annie's people, who show you what life is and how life is lived - with or without the need to breathe." --P. M. H. Atwater, L.H.D., Near-Death Researcher and Experiencer, author of such books as Future Memory, and Near-Death Experiences: The Rest of The Story
— Reviews

"The After Death Chronicles is must reading for anyone who has lost a loved one. And quite frankly, that's nearly all of us. The information in this book provides solace and a great deal of hope. It's medicine for the soul." --Christiane Northrup, MD, New York Times bestselling author of Goddesses Never Age
— Reviews

"This book is a real treasure, one that will surely bring comfort and reassurance to those who are grieving the loss of a loved one, those facing terminal illness, those seeking greater spiritual insight and people everywhere who yearn for more insight about the transcendent meaning of death. The after-death encounters Annie Mattingley shares with us in her delightful book are powerful teachers, each one. They instruct that while we are indeed mortal because our physical bodies die, there is another aspect of our being which is immortal, a surviving inner essence which continues after the transition we call death to embrace the joyous experience of eternal existence." --John R. Audette, MS, CEO & Co-Founder, Eternea.org and Founder of The International Association for Near-Death Studies (iands.org)
— Reviews