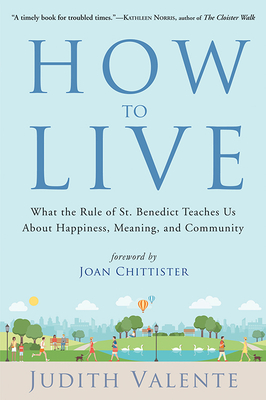 How to Live (Paperback)
What the Rule of St. Benedict Teaches Us About Happiness, Meaning, and Community
Hampton Roads Publishing, 9781571747983, 224pp.
Publication Date: April 1, 2018
* Individual store prices may vary.
Description
The Rule of St. Benedict arose from an era when a great civilization was threatened by violence, economic forces that favored the wealthy, political leaders that lacked the trust of the public, and rampant xenophobia. Similar to the anxieties and frustrations of the 6th century, we are living in a time where societies need to stress community over competition, consensus over conflict, simplicity over self gain, and silence over the constant chatter and distractions of our lives.
In How to Live, Judith Valente explores the key elements of the rule and clearly demonstrates how incorporating this ancient wisdom can change the quality and texture of our lives offering a way forward from the divisions gripping our country. These fresh and profound explorations are inspiring and thoughtful, and will motivate readers to live a meaningful life.
About the Author

Judith Valente is an award-winning journalist, poet, and essayist and has won two Edward R. Murrow Awards for her broadcast work in 2015. She has also been a finalist twice for the Pulitzer Prize in journalism. Judith is the senior correspondent at WGLT Radio, a National Public Radio station. She contributes reports from the Midwest to USA Today, National Catholic Reporter, and U.S. Catholic. Previously, she was a contributing correspondent for Religion & Ethics NewsWeekly on PBS-TV, a Midwest correspondent for America, and a reporter for The Washington Post and The Wall Street Journal. She splits her time between Normal and Chicago, IL. Visit her at www.judithvalente.com.


Joan Chittister is the author of The Rule of Benedict.


Marty is a professor emeritus at The University of Chicago and one of the leading theologians and historians of the 20th century.

Praise For How to Live: What the Rule of St. Benedict Teaches Us About Happiness, Meaning, and Community…
"This is a timely book for troubled times, showing how the values and practices established by St. Benedict in the 6th century can help us lead happier lives. A self-professed workaholic, the author allows the reader to see how her life has changed for the better since she took this ancient wisdom to heart." --Kathleen Norris, author of The Cloister Walk, Dakota: A Spiritual Geography, Acedia and Me, and Saving Grace

"To have such a gifted writer live and report through the lens of The Rule of St. Benedict is a blessing for all of us. Judith Valente offers more than perspective. Her life's work is monastic. To read, reflect and report is the role of a professional journalist. As an author and journalist, Valente has The Rule of Benedict for her editor. What a gift for us." --Mary Margaret Funk, author of Thoughts Matter; Tools Matter; Humility Matters; and Out of the Depths

"Like all of Judith Valente's writing, this beautiful actualization of the Rule of St. Benedict is accessible, inviting, challenging, inspiring and wise. Even if you've never once set foot in a Benedictine monastery, this book will help you live a more contemplative and centered life in the busiest of worlds--your own." --James Martin, SJ, author of Jesus: A Pilgrimage

"How to Live is a warm, inviting, and accessible introduction to the wisdom of Saint Benedict and its continuing relevance for our time. Whether you are new to the Rule or have been following the Benedictine path for many seasons, this book will enrich you with its insights and charm." --Carl McColman, author of The Little Book of Christian Mysticism and Answering the Contemplative Call

"For those of you who suspect that it is "high time to rise from sleep" this book holds much promise. Filled with the practical wisdom of St. Benedict it is a work that can help you discern ways to enrich your daily life. With keen insights into monastic living the author shares her own journey of discovering that the Rule of Benedict is not just for monks." --Macrina Wiederkehr, author of Seven Sacred Pauses

"How to Live is a warm, inviting, and accessible introduction to the wisdom of Saint Benedict and its continuing relevance for our time. Whether you are new to the Rule or have been following the Benedictine path for many seasons, this book will enrich you with its insights and charm." --Carl McColman, author of The Little Book of Christian Mysticism and Answering the Contemplative Call

"Suddenly, St. Benedict of Nursia, who lived 1600 years ago, is popular again. First was Rod Dreher's The Benedict Option, which encourages a reinvigorated faith based on classic Christian values as illuminated in the Rule of Saint Benedict. This similar work by journalist and media personality Valente is liberally peppered with Benedict's Rule, which she asserts provides "a veritable guarantee of the good life" in its focus on a balanced personal humility and individual spiritual growth. This is not a cry for retreat from the world; rather, Valente's own harried personal life serves as a microcosm through which to understand the value of everything in moderation, while focusing on simplicity and silence. The author finds that "silence sets down a place for wisdom to find a home" and with insight suggests that "sooner or later, we all need to let our souls catch up with the rest of our lives." VERDICT Comforting words for anyone in need of a period of reflection, for both individuals and book groups." --Library Journal, Sandra Collins, Byzantine Catholic Seminary Lib., Pittsburgh

"This is a timely book for troubled times, showing how the values and practices established by St. Benedict in the 6th century can help us lead happier lives. A self-professed workaholic, the author allows the reader to see how her life has changed for the better since she took this ancient wisdom to heart." --Kathleen Norris, author of The Cloister Walk, Dakota: A Spiritual Geography, Acedia and Me, and Saving Grace