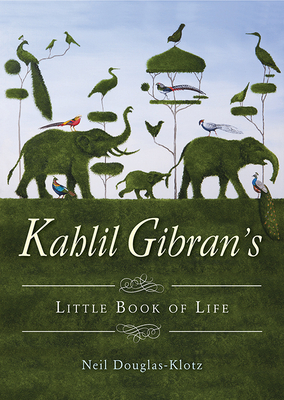 Kahlil Gibran's Little Book of Life
Paperback

* Individual store prices may vary.
Description
For the past eighty years, the beautiful words of the Lebanese-American poet Kahlil Gibran have graced everything from greeting cards and wedding invitations to inspirational wall hangings and corporate motivational literature. By one account, Gibran is the third bestselling poet of all time, after Shakespeare and Lao-Tzu.
In this beautiful gift book, we discover the essential wisdom about what it means to be alive. For Gibran life is the energy that saturates all we see and feel--as well as what we can only imagine. Here are over 100 fables, aphorisms, parables, stories, and poems from the author of The Prophet.
Here on display is that visionary voice of comfort, love, and tolerance.
Listing to Nature's Life
Taking time to listen to the natural world reveals a new dimension of being
human. It is as if all of nature were already within us, reminding us of our
connection to the one life we share.

Solitude
Solitude is a silent storm
that breaks down all our dead branches.
Yet it sends our living roots deeper
into the living heart of the living earth.
Praise For Kahlil Gibran's Little Book of Life…
"Lebanese poet, Maronite Catholic, and follower of Sufi mysticism Kahlil Gibran died in 1931, yet his most memorable work, The Prophet, continues to form and inform spiritual seekers. Author Douglas-Klotz (director, Edinburgh Inst. for Advanced Learning) identifies the work as "inspirational fiction" and intersperses quotes from the book with lesser-known works to demonstrate Gibran's reflections on the topics of life and living. Douglas-Klotz admits that while some of these sayings are comforting, others are confusing, even disturbing. This is, he claims, the mystic's willingness to engage chaos as well as peace, signifying Gibran's embrace of all of life. Short apothegms ("We live only to discover beauty/ All else is a form of waiting") are part of chapter-long meditations. A few do not easily reveal their deeper insights ("If I were you/ I would not find fault/ with the sea/ at low tide"). Selection notes provide an important guide for further reading; an "About the Author" endnote is also helpful. VERDICT Poems, parables, and stories for mystical hearts." --Library Journal, Sandra Collins, Byzantine Catholic Seminary Lib., Pittsburgh
— Reviews

"Douglas-Klotz (Prayers of the Cosmos) compiles Lebanese poet Kahlil Gibran's writings on energy, vitality, and expression in this pocket-sized first book of the Little Book of Life series. Douglas-Klotz draws from the full breadth of Gibran's oeuvre (including many poems from Spirits Rebellious and The Garden of the Prophet) and organizes his selections under six themes: the life of nature, beauty, the human journey, seasons, paradoxes, and the soul. Apart from the introduction, Douglas-Klotz forgoes any commentary or personal reflections, though the chosen works generally emphasize Gibran's influences of Maronite Christianity and Lebanese culture--two cultures the poet (who immigrated to America) straddled throughout his life. Highlights include selections on connecting with nature through solitude, the triumph of life in the face of suffering, and the limits of knowledge. Purposefully avoiding Gibran's best-known work, The Prophet, this slim gift book will serve as a solid guide for Gibran fans looking for an easy entrée into his less popular work." --Publishers Weekly (Mar.)
— Reviews
Hampton Roads Publishing, 9781571748300, 224pp.
Publication Date: March 1, 2018
About the Author
Kahlil Gibran (1883-1931) was writer, poet, and Lebanese nationalist and visual artist. His teaching fable, The Prophet, remains one of the bestselling inspirational works of all time.

Neil-Douglas-Klotz, PhD, is a world-renowned scholar in religious studies, spirituality, and psychology. He directs the Edinburgh Institute for Advanced Learning and for many years was the co-chair of the Mysticism Group of the American Academy of Religion. Visit him at abwoon.org.