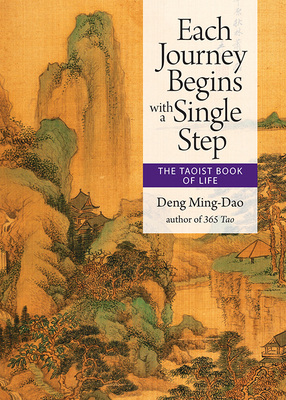 Each Journey Begins With a Single Step (Paperback)
The Taoist Book of Life
Hampton Roads Publishing, 9781571748386, 208pp.
Publication Date: September 1, 2018
* Individual store prices may vary.
Description
This is a book of guidance for life's journey rooted in the wisdom of ancient China. Best-selling author Deng Ming-Dao provides key poetic lines that distill the essence of Taoism, organizing them in the form of a journey. The material here is drawn from three sources: The Tao Te Ching, The Yijing, and 300 Tang Poems.
Deng Ming-Dao writes: "We walk the Way each day. We don't know what's ahead and so it's helpful to have the wisdom of others to guide us. They have left us a message to encourage us. They have spoken of the joys, griefs, and purity that we should embrace. Like good pathfinders, they give us direction and prepare us for what we might encounter. They let us walk for ourselves. We have a wonderful companion for the journey."
The following lines reflect the inspirational nature of this book:
"A good traveler leaves no footprints."
"Think three times, then move."
"Words can be worth a thousand pieces of gold."
"Ancestors plant trees. Descendants enjoy cool shade."
"A journey of one thousand miles begins with a single step."
This is a lovely package that will function as a gift for all occasions and as an object for those looking for daily sustenance on life's journey.
About the Author

Deng Ming-Dao is an artist, philosopher, teacher, and martial artist. He is the author of eight books, including 365 Tao, Everyday Tao, Scholar Warrior, and Chronicles of Tao. He is an award-winning graphic designer and fine artist whose work is shown in several collections, including those of the Brooklyn Museum. Visit him at dengmingdao.com.

Praise For Each Journey Begins With a Single Step: The Taoist Book of Life…
"Successful Taoist author Ming-Dao has gathered excerpts from The Tao Te-Ching, The Yijing, and Chinese poetic tradition (derived mostly from
300 Tang Poems
) in order to create a lyrical (Melancholy spring wind, pained at river sunset.), poignant (My hair turns white in this foreign land ... and shivering animals in withered grass on every side will accompany my worried face.), and insightful (A good fighter is never angry.) journey through Taoism. Each carefully chosen phrase is a brush stroke which paints part of a picture that elevates as it comes more and more into focus. Ming-Dao's mastery of the words of Tao serves him well in this small but powerful book. He includes a glossary at the end for those less well-versed than he is in the subject. The book can be read front to back or randomly with equal gratification. Of course, it can also be used as an oracle by customers who are inclined toward psychic guidance. It will be perfect for holiday shoppers."
Even when the chariot is before a mountain,
There will be a road. --Proverb" --
Anna Jedrziewski
,
Retailing Insights
August 2018
— Anna Jedrziewski
"A marvelously engaging and innovative omnibus! Deng Ming Dao maps here the way of China's perennial philosophies. A wise and trusty mentor, he lets the landscape, within us all and all around us, speak for itself, so that we may each find our own way with this timeless guide." --
Gary Gach
, author of
Pause, Breathe, Smile
— Gary Gach
"Deng Ming-Dao's collection relies on three major sources: the Daodejing, given in its complete translation; the Yiying, said to have been written by Confucius; and examples from the Chinese poetic tradition. Some experiences will bring sorrow and pain, yet even these are shown to be part of the Tao, the mysterious Way that is said to lead through heaven and earth and is open to all." – Foreword Reviews
"This collection of Taoist sayings is organized around simple and profound concepts, such as the road or path, truth or reason, speech and steps, or process. It's the multiple meanings that derive from this combination of concepts that will speak to each individual. Deng describes life as a journey in poetic form, offering the primary sources of these sayings." --Library Journal