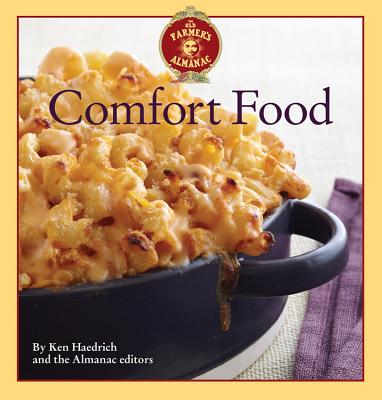 The Old Farmer's Almanac Comfort Food (Paperback)
Every dish you love, every recipe you want
Old Farmer's Almanac, 9781571986481, 288pp.
Publication Date: September 2, 2014
* Individual store prices may vary.
Description
Every dish you love, every recipe you want! Comfort Food, from award-winning cookbook author Ken Haedrich and the editors of the Almanac, is a collection of more than 200 recipes that you will love to make, love to serve, and love to keep. Here you'll find everything from familiar favorites kicked up a notch to classic dishes that heat up the kitchen, warm the heart, and spark old memories while inspiring new ones, including Chicken Parmesan Potpie, Super-Creamy Mac and Cheese, Best Ever Coconut Cream Pie, and more! For a taste of home that satisfies the appetite and delights the senses, thumb the pages of The Old Farmer's Almanac Comfort Food. Its saucy, cheesy, chewy, gooey, sweet, simple, "lick-the-bowl"-delicious dishes will be treasured by anyone who likes to cook—and everyone who likes to eat. 
 
About the Author
KEN HAEDRICH, with his four decades of experience as a "comfort food" cook, has collaborated with The Old Farmer's Almanac on two books: Comfort Food and Everyday Baking. Author of 13 cookbooks, many from The Harvard Common Press, and winner of the Julia Child Cookbook Award, his recipes, food articles, and tips have brought great food and delicious dishes to millions of people. Ken lives in the Lowcountry of South Carolina, and is the "dean" of The Pie Academy found here: thepieacademy.com.