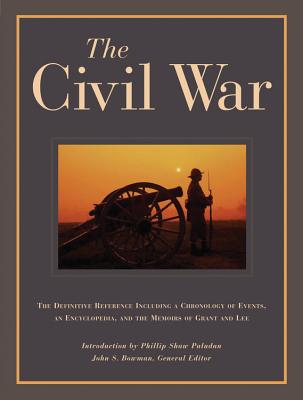 The Civil War (Hardcover)
The Definitive Reference Including A Chronology of Events, An Encyclopedia, and the Memoirs of Grant and Lee
JG Press, 9781572154629, 800pp.
Publication Date: January 1, 2000
Other Editions of This Title:
Hardcover (1/1/2014)
* Individual store prices may vary.
Description
It has long been accepted that there is no shortage of books on the Civil War so that yet another one, especially as large as this, might call for some justification. But it is more than the very size and thoroughness of this volume that should make it an indispensable work, both for those with a longtime interest and those beginning to take an interest in this subject. Several components of this one volume make it a fascinating book for browsing and reading, as well as a valuable reference work. And the various elements of this volume do not limit themselves to military history: This book places the war in its social and historical context and constantly refers to-and illustrates-individuals and events that make the Civil War such a crucial episode in the nation's development. The chronology lays out the day-to-day developments leading up to the war and then of the combat in considerable detail, while the encyclopedia's alphabetized entries provide accessible identifications and definitions, also of many topics beyond the hostilities. Those particularly interested in military topics will appreciate two specialized sections – one on the weapons used in the war, the other on the naval warfare. Then there are selections from the memoirs of the two great commanders, Ulysses S. Grant and Robert E. Lee. This compilation of key excerpts, focusing on Grant and Lee's actions in the war, is of intrinsic interest and also provides another perspective on the events referred to in the chronology and encyclopedia. Following these selections is a chronology of their complete lives. In addition, there is a list of recommended books for those who want to pursue specific topics in more depth. What further distinguishes this work are more than 2500 illustrations in addition to some 60 maps and plans, in full color wherever available.
About the Author
Greene Media creates and licenses content for publishers and book distributors.
or
Not Currently Available for Direct Purchase