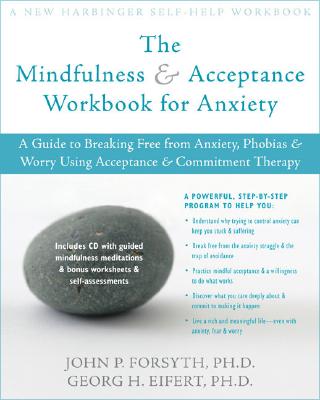 The Mindfulness and Acceptance Workbook for Anxiety (Paperback)
A Guide to Breaking Free from Anxiety, Phobias, and Worry Using Acceptance and Commitment Therapy
New Harbinger Publications, 9781572244993, 288pp.
Publication Date: January 2, 2008
* Individual store prices may vary.
Description
Attempts to manage your thoughts or get rid of worry, fear, and panic can leave you feeling frustrated and powerless. But you can take back your life from anxiety without controlling anxious thoughts and feelings. You can stop avoiding anxiety and start showing up to your life. The Mindfulness & Acceptance Workbook for Anxiety will get you started, using a revolutionary new approach called acceptance and commitment therapy, or ACT.
The book has one purpose: to help you live better, more fully, more richly. Your life is calling on you to make that choice, and the skills in this workbook can help you make it happen. Find out how your mind can trap you, keeping you stuck and struggling in anxiety and fear. Learn to nurture your capacity for acceptance, mindfulness, kindness, and compassion. Use these qualities to shift your focus away from anxiety and onto what you really want your life to be about. As you do, your life will get bigger as your anxious suffering gets smaller. No matter what kind of anxiety problem you're struggling with, this workbook can guide you toward a more vibrant and purposeful life. Includes a CD with bonus worksheets, self-assessments, and guided mindfulness meditations.
This book has been awarded The Association for Behavioral and Cognitive Therapies Self-Help Seal of Merit -- an award bestowed on outstanding self-help books that are consistent with cognitive behavioral therapy (CBT) principles and that incorporate scientifically tested strategies for overcoming mental health difficulties. Used alone or in conjunction with therapy, our books offer powerful tools readers can use to jump-start changes in their lives.
About the Author
John P. Forsyth, Ph.D., is a scientist, writer, and licensed clinical psychologist in Upstate New York. He has traveled the world giving talks and workshops to the public and professionals about the benefits of mindful acceptance, kindness and compassion, and how to live a valued life using a new approach to psychological health and wellness called Acceptance and Commitment Therapy (ACT). He is Associate Professor of Psychology, Director of the Doctoral Training Program in Clinical Psychology, and Director of the Anxiety Disorders Research Program at the University at Albany, State University of New York.He has published many articles about how excessive struggle with unpleasant thoughts and emotions feeds human suffering, and what mindfulness and acceptance can offer as a solution. He has been doing basic and applied work related to anxiety disorders and ACT for well over a decade. He is a clinical fellow of the Behavior Therapy and Research Society, serves on the editorial boards of several leading journals, and is associate editor of the Journal of Behavior Therapy and Experimental Psychiatry. He is coauthor of Acceptance and Commitment Therapy for Anxiety Disorders: A Practitioner's Treatment Guide to Using Mindfulness, Acceptance, and Values-Based Behavior Change Strategies, ACT on Life, Not on Anger: The New Acceptance and Commitment Therapy for Problem Anger and The Mindfulness and Acceptance Workbook for Anxiety: Break Free from Anxiety, Phobias, and Worry Using Acceptance and Commitment Therapy (New Harbinger), published in Jan. 2008. His work has helped foster growing international interest in acceptance and mindfulness approaches in psychology, mental health care, medicine, and society.Visit his blog: http: //mindfulness-and-anxiety.blogspot.com.Georg H. Eifert, Ph.D., is professor and chair of the department of psychology at Chapman University in Orange, CA. He was ranked among the top thirty researchers in behavior analysis and therapy in the 1990s, and he has authored over 100 publications on psychological causes and treatments of anxiety and other emotional disorders. He is a clinical fellow of the Behavior Therapy and Research Society, a member of numerous national and international psychological associations, and he serves on several editorial boards of leading clinical psychology journals. He is also a licensed clinical psychologist. He is coauthor of Acceptance and Commitment Therapy for Anxiety Disorders and ACT on Life, Not on Anger.
or
Not Currently Available for Direct Purchase