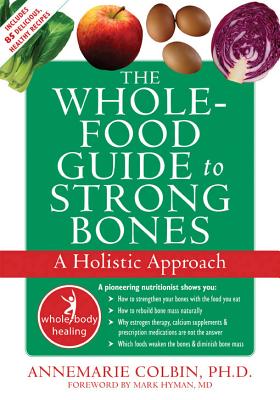 The Whole-Food Guide to Strong Bones (Paperback)
Help for Children to Cope with Stress, Anxiety, and Transitions
New Harbinger Publications, 9781572245808, 272pp.
Publication Date: February 2, 2009
* Individual store prices may vary.
or
Not Currently Available for Direct Purchase
Description
It's essential to maintain strong bones to keep an active lifestyle, but aside from taking a daily calcium supplement, is there really anything you can do to improve your bone health? With this complete program for stronger bones created by health educator Annemarie Colbin, you'll learn the best foods to eat to build bone mass and find out which foods actually weaken bones. In The Whole-Food Guide to Strong Bones, you'll also discover how exercise and finding personal balance can improve your health and prevent fragility fractures, menopause-related bone loss, and osteoporosis.
Learn:
What puts you at risk for bone fracture
Why medication and estrogen therapy may not work for you
How the nutrients in whole foods build bone mass
85 easy recipes that maximize the bone-building effects of whole foods
About the Author
Annemarie Colbin, Ph.D., is a health educator and award-winning writer, consultant, and lecturer. She is the founder and CEO of the Natural Gourmet Institute for Health and Culinary Arts in New York City, which offers a licensed and accredited career program in natural foods cuisine. The associated Natural Gourmet Institute for Food and Health offers avocational classes in health-supportive cooking and natural healing to the general public. Colbin has also taught at several New York City schools, including the Institute for Integrative Nutrition, the New York City Open Center, Touro College, and Empire State College. She is author of several books including Food and Healing and writes a column, "Food and Your Health," for New York Spirit magazine. Colbin offers private wellness consultations. She lives in New York City with her husband, journalist Bernard Gavzer. You can learn more about the Natural Gourmet Institute for Health and Culinary Arts at www.naturalgourmetinstitute.com.Foreword author Mark Hyman, MD, is coauthor of The Detox Box and the best-selling Ultraprevention. He is editor-in-chief of Alternative Therapies in Health and Medicine, the most prestigious journal in the field of integrative medicine. Hyman lives in western Massachusetts.
Advertisement