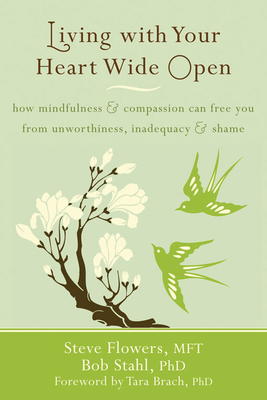 Living with Your Heart Wide Open: How Mindfulness & Compassion Can Free You from Unworthiness, Inadequacy & Shame (Paperback)
How Mindfulness & Compassion Can Free You from Unworthiness, Inadequacy & Shame
New Harbinger Publications, 9781572249356, 192pp.
Publication Date: July 1, 2011
Description
The way we talk to ourselves is often unkind and filled with self-judgments. These overly harsh self-criticisms can make us feel unworthy and incomplete. What if what you really need is not higher standards for yourself, but greater self-compassion? In Living with Your Heart Wide Open, you ll discover how mindfulness and self-compassion can free you from the thoughts and beliefs that create feelings of inadequacy and learn to open your heart to the loving-kindness within you and in the world around you.Based in Western psychotherapy and Buddhist psychological principles, this book guides you past painful and self-limiting beliefs about yourself and toward a new perspective of nonjudgmental awareness and acceptance of who you are, just as you are. You ll receive gentle guidance in mindfulness and compassion practices that will lead you away from unproductive, self-critical thoughts and help you live more freely and fearlessly, with your heart wide open.
About the Author
Steve Flowers, MFT, founded the mindfulness-based stress reduction (MBSR) program at Enloe Medical Center and pioneered the international MBSR online program. With Bob Stahl, he leads mindful-living programs and mindfulness retreats for medical and health professionals, couples, and individuals seeking to cultivate mindfulness and compassion in their lives. Directing and providing wellness programs and workshops for corporations, city and county governments, medical centers, and universities, he is deeply committed to bringing mindfulness into health care and society.Bob Stahl, PhD, founded and directs mindfulness-based stress reduction (MBSR) programs in three medical centers in the San Francisco Bay Area. A longtime mindfulness practitioner who lived in a Buddhist monastery for over eight years, he serves as an adjunct senior teacher at Oasis, the institute for mindfulness-based professional education and innovation at the Center for Mindfulness in Medicine, Health Care, and Society at the University of Massachusetts Medical School. He is coauthor of A Mindfulness-Based Stress Reduction Workbook.Foreword writer Tara Brach, PhD, has been practicing meditation since 1975 and leads Buddhist meditation retreats at centers throughout North America. She is a clinical psychologist and author of Radical Acceptance and True Refuge."
Advertisement