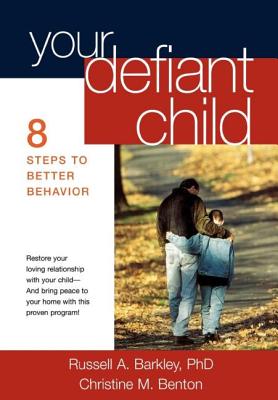 Your Defiant Child, First Edition
Eight Steps to Better Behavior
Hardcover

* Individual store prices may vary.
Other Editions of This Title:
Paperback (10/7/1998)
Description

Every child has "ornery" moments, but more than 1 in 20 American children exhibit behavioral problems that are out of control. For readers struggling with an unyielding or combative child, YOUR DEFIANT CHILD: EIGHT STEPS TO BETTER BEHAVIOR offers the understanding and guidance they need. Drawing on Dr. Russell A. Barkley's many years of work with parents and children, the book clearly explains what causes defiance, when it becomes a problem, and how it can be resolved. The book's comprehensive eight-step program stresses consistency and cooperation, promoting changes through a system of praise, rewards, and mild punishment. Readers learn tools and strategies for establishing clear patterns of discipline, communicating with children on a level they can understand, and reducing family stress overall. Filled with helpful charts, questionnaires, and checklists, YOUR DEFIANT CHILD helps parents get their child's behavior back on track and restore harmony in the home.



Winner-- Parents' Choice "Approved" Award
Praise For Your Defiant Child, First Edition: Eight Steps to Better Behavior…
"This is a superb and extremely helpful book. Readers negotiating the icy roads and blizzard-like conditions of raising a defiant child will find that this book shifts them into four-wheel drive. The advice in these pages not only makes the road less treacherous--it helps parents drive it with confidence, and helps the whole family arrive at their destination happier and wiser for the trip they took. Barkley draws upon a wealth of experience with real families, as well as a thorough command of the latest research and scientific findings, to create an easy-to-read, practical, immensely informative work." --Edward M. Hallowell, MD, coauthor of Answers to Distraction

"This book distills the wisdom of an approach that Dr. Barkley and others have been developing for more than 20 years. As a school psychologist, I have used this program since 1990 in a group setting with over 1,300 parents, the majority of whom found it beneficial. Finally, parents have a manual to help them implement the program at home. It is supportive, nonjudgmental, and filled with practical suggestions and true-to-life anecdotes. All parents who are concerned about their children's behavior should read this book." --Frederick L. Quici, NCSP, Alta Loma School District, Alta Loma, California

"This book provides step-by-step, practical help for parents of children who are difficult to manage. It affords new hope to families desiring a more peaceful and fulfilling life together. Invaluable for parents, teachers, and clinicians." --Sylvia B. Rimm, PhD, author of Dr. Sylvia Rimm's Smart Parenting, Director, Family Achievement Clinic, MetroHealth Medical Center, Cleveland, Ohio

The Guilford Press, 9781572304055, 239pp.
Publication Date: October 6, 1998
or
Not Currently Available for Direct Purchase