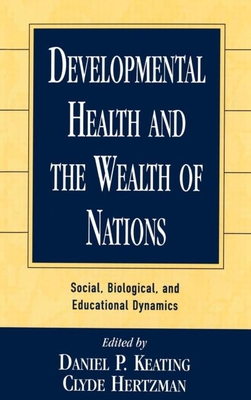 Developmental Health and the Wealth of Nations
Social, Biological, and Educational Dynamics
Hardcover

* Individual store prices may vary.
Other Editions of This Title:
Paperback (2/8/2000)
Description
Probing the effects of the social environment upon human development, this volume asks how we can best support the health and well-being of infants and children in an era of rapid economic and technological change. The book presents cogent findings on human development as both an individual and a population phenomenon. Topics covered include links between socioeconomic status, achievement, and health; the impact of early experience upon brain and behavioral development; and how schools and communities can develop new kinds of learning environments to enhance adaptation and foster intellectual growth. Synthesizing developmental, biological, and social perspectives, this volume will appeal to a broad interdisciplinary audience.

Praise For Developmental Health and the Wealth of Nations: Social, Biological, and Educational Dynamics…
"This book is perfect for my new advanced undergraduate seminar on contemporary social problems. It goes well beyond other texts that trace the connections between systemic social issues and human developmental processes: social, biological, and educational mechanisms are clearly delineated and substantiated with data from many sources. The volume is timely, important, and provides crucial information that increases our understanding of where we are (and why), and where we need to go. It can be used as a text for courses in human development, sociology, urban studies, and economics. The interdisciplinary focus is certainly welcome and needed to elucidate the complexity of these issues." --Cynthia Garcia Coll, PhD, Professor of Education, Psychology, and Pediatrics, Chair, Education Department, Brown University

"Historically unprecedented challenges to healthy development exist today across the lifespan, in industrialized and nonindustrialized nations alike. In this timely and unique book, a distinguished interdisciplinary group of scholars proposes a new model for understanding the character and bases of healthy human development. They also point the way toward social policies and programs that will promote positive outcomes for the diverse children of our modern world. Scholars and teachers within the fields of education, psychology, public health, and public policy will be attracted to the compelling vision for healthy development presented in this book. Throughout, scientific findings and applications are precisely, convincingly, and powerfully presented." --Richard M. Lerner, PhD, Boston College, Center for Child, Family and Community Partnerships, Chestnut Hill, MA

"This is an enormously useful volume for those wanting to know not only the 'whats' but also the 'hows' of developmental health. There is nothing else like it. It contains a true wealth of insights and data about the ways that social and biological forces conspire to produce developmental differences. I found myself making copious notes in the margins. This book should be required reading for anyone teaching an upper-level or graduate course in developmental psychology and public policy. Readers will appreciate the care the authors take to render abstract biological concepts understandable." --Stephen J. Ceci, PhD, The Helen L. Carr Professor of Developmental Psychology, Department of Human Development, Cornell University

The Guilford Press, 9781572304543, 406pp.
Publication Date: July 1, 1999
About the Author
Daniel P. Keating, PhD, Department of Human Development and
Applied Psychology, Ontario Institute for Studies in Education,
University of Toronto, Toronto, Ontario, Canada