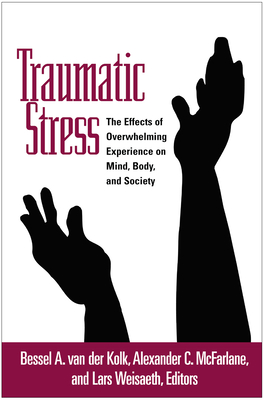 Traumatic Stress (Paperback)
The Effects of Overwhelming Experience on Mind, Body, and Society
The Guilford Press, 9781572304574, 596pp.
Publication Date: November 1, 2006
Other Editions of This Title:
Hardcover (5/3/1996)
* Individual store prices may vary.
Description
This bestselling classic presents seminal theory and research on posttraumatic stress disorder (PTSD). Together, the leading editors and contributors comprehensively examine how trauma affects an individual's biology, conceptions of the world, and psychological functioning. Key topics include why certain people cope successfully with traumatic experiences while others do not, the neurobiological processes underlying PTSD symptomatology, enduring questions surrounding traumatic memories and dissociation, and the core components of effective interventions. A highly influential work that laid the foundation for many of the field's continuing advances, this volume remains an immensely informative and thought-provoking clinical reference and text. The preface to the 2007 paperback edition situates the book within the context of contemporary research developments. 
About the Author
Bessel A. van der Kolk, M.D., is Director of the Trauma Center at Human Resources Institute in Boston Massachusetts, a center for the treatment and study of traumatized children and adults. He is an Associate Professor of psychiatry at Harvard Medical School and the past President of the International Society of Traumatic Stress Studies. He has done extensive research on developmental and biological aspects of the human adaptation to trauma, including studying the nature of traumatic memories. He was co-principal investigator for the DSM-IV Field Trial for PTSD. He is the author of two previous books on the human response to trauma: PTSD: Psychological and Biological Sequelae (1984) and Psychological Trauma, (APA Press, 1987).

Lars Weisaeth, M.D., Ph.D., is Professor of Disaster Psychiatry at the University of Oslo, Norway, and frequent consultant to the United Nations and other international organizations regarding approaches to treating traumatized civilians and soldiers.

Alexander C. McFarlane is Professor of Psychiatry at the University of Adelaide and Head of the Department of Psychiatry at the Queen Elizabeth Hospital in South Australia. His research in the field of trauma is wide ranging and began following a large bushfire disaster which affected his community in 1983. His clinical work is with victims of a variety of traumas, including accidents, disasters, torture, and war.
Praise For Traumatic Stress: The Effects of Overwhelming Experience on Mind, Body, and Society…
"A valuable text on trauma and its treatment. I use the book in the courses Clinical Practice I and II. It is very informative in that it provides many perspectives regarding the possible long-term effects of trauma on children and adults. In addition, the authors' styles make the book highly accessible and useful for clinicians at all levels of practice."--Karen Kaufman, PhD, LCSW, Adjunct Faculty Member, Fordham University Graduate School of Social Service
"Once in a blue moon, a book is published that bears such importance for its subject that it becomes an instant classic. Traumatic Stress is such a book...No doubt, researchers will consider Traumatic Stress as an essential resource, and no academic library serving PTSD scholars will want to be without it..." --L.S. Beall, Auburn University in Choice, December 1996

"van der Kolk, McFarlane, and Weisaeth have had the courage to investigate and write about the most controversial areas in modern psychiatric research. Their intelligent, careful, and wide-ranging collection of essays adheres to a high standard of scientific rigor and in doing so shows a deep sympathy with the human face of suffering. The study of psychological trauma raises profound intellectual, ethical, and political questions, and this book is essential reading for anyone who wants to participate in the discussion." --Carol Gilligan, Ph.D., Harvard University

"This is a book of great scope and lucid intelligence that integrates the work of many pioneers and captures the keen spirit of inquiry that animates this rapidly developing field. As a comprehensive summary of our current state of knowledge and a guide to the next generation of clinicians and researchers, Traumatic Stress will be the gold standard reference for many years to come." --Judith L. Herman, MD, Harvard Medical School

"Encyclopedic in its scope, Traumatic Stress provides a detailed review and critical analysis of the vast literature generated by the renewed interest in psychological trauma during the past two decades. Although not as yet woven into a final, fully illuminative tapestry, the individual threads of the psychological, biological, developmental, cultural, and historical aspects of emotionally traumatic experiences are clearly spun throughout the text. As such, they stand as guides to deeper clinical understanding and further research for all who wish to follow them. The volume is an important contribution to the field and should become a basic work of reference for the growing legion of mental health professionals concerned with the role of traumatic stress in the production of human illness." --John C. Nemiah, M.D., Professor of Psychiatry, Dartmouth Medical School, Professor of Psychiatry Emeritus, Harvard Medical School

"An impressive and important book. van der Kolk and McFarlane bring both science and sensitivity to this edited volume on PTSD. From children to the elderly, from psychoanalysis to psychopharmacology, from the individual to society at large, the clinical material is all here. An international list of contributors provide a rich collection of chapters covering all aspects of PTSD. Both comprehensive and integrative, Traumatic Stress will reshape the way that we understand trauma." --Frank W. Putnam, MD, NIMH

"I have used this book as a text in two graduate social work courses: 'Crisis Intervention and Trauma Treatment' and 'Clinical Practice 2.' Several chapters stand out as particularly valuable in addressing elements of trauma of concern to all mental health workers. The book provides clear coverage of such critical topics as biological and cultural aspects of trauma, problems of dissociation and information processing, general treatment principles, and specific treatment approaches. The text is well organized and well written, and provides an excellent foundation for the study of trauma."--Robert Chazin, DSW, Fordham University
 
"It is impossible to capture the richness, breadth of perspective, and sheer clinical wisdom that van der Kolk and his colleagues bring to this volume."
— Bulletin of the Menninger Clinic
"Should be required for all of us who work with trauma victims. It is a scholarly synthesis of research advances combined with humanitarian sensitivity and clinical pragmatism."
— General Hospital Psychiatry
"Like a small number of classic volumes in the field of traumatic stress...this book is remarkable for including not only [the] scientific and medical viewpoint, but also the sociopolitical context in which trauma, its study, and its treatment occur....An invaluable contribution to the field of traumatic stress studies, and psychology in general. We highly recommend this book to researchers, clinicians, students, and all of those committed to understanding and taking responsibility for the effects of trauma on the individual and society."
— Contemporary Psychology