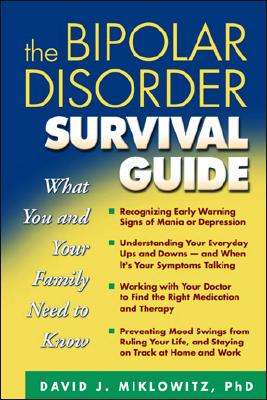 The Bipolar Disorder Survival Guide: What You and Your Family Need to Know (Paperback)
What You and Your Family Need to Know
The Guilford Press, 9781572305250, 322pp.
Publication Date: January 1, 2002
* Individual store prices may vary.
or
Not Currently Available for Direct Purchase
Description
Here is a comprehensive guide offering straight talk that can help people with bipolar disorder take charge of their illness and reclaim their lives. It is filled with practical self-assessment and self-management strategies from a compassionate professional who knows what works. The book helps individuals and family members come to terms with the diagnosis; recognize early warning signs of manic or depressive episodes; cope with mood swing triggers; manage medication problems and family and work issues; and learn to collaborate effectively with doctors and therapists. Above all, it supplies proven tools to help readers reach toward achieving balance -- without sacrificing their right to rich and varied emotional experiences.

About the Author
David J. Miklowitz, PhD, is Professor of Psychology at the University of Colorado, Boulder, where he has been a faculty member since 1989. His research has been funded by the National Institute of Mental Health and the MacArthur Foundation, and recognized with awards from the International Congress on Schizophrenia Research and the National Alliance for Research on Schizophrenia and Depression, among others. The author of over 90 journal articles and book chapters, Dr. Miklowitz is the coauthor (with Michael G. Goldstein) of Bipolar Disorder: A Family-Focused Treatment Approach, which won the 1998 Outstanding Research Publication Award from the American Association for Marital and Family Therapy.
Praise For The Bipolar Disorder Survival Guide: What You and Your Family Need to Know…
"Dr. Miklowitz's book is both impressive and very humane. His lucid, multidimensional exploration of the patient's experience and his practical and empowering self-management techniques go far toward promoting stability. This book should be required reading for people with the disorder, their family members, and the physicians and therapists who treat them."--Demitri F. Papolos, MD, and Janice Papolos, authors of Overcoming Depression and The Bipolar Child

"When Miklowitz started his work, it seemed paradoxical to many that psychosocial approaches, including illness education, could affect the course of an illness which is incontrovertibly genetic and biological in its origins. It was Miklowitz's pioneering research that proved this assumption wrong. Now he has provided patients and families with just the right psychoeducational tool--an authoritative and eminently readable book about bipolar illness and its treatment."--Frederick K. Goodwin, MD, coauthor of Manic-Depressive Illness, Research Professor of Psychiatry; Director, Center on Neuroscience, Medical Progress and Society, George Washington University Medical Center

"The Bipolar Disorder Survival Guide is a practical, straightforward book that will be a great help to those who have bipolar illness, as well as their families."--Kay Redfield Jamison, PhD, author of An Unquiet Mind and Night Falls Fast
Advertisement