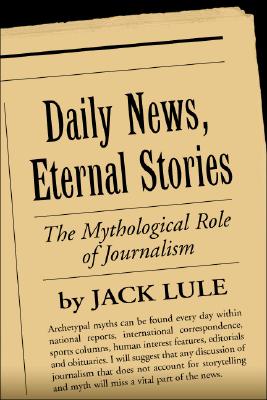 Daily News, Eternal Stories
The Mythological Role of Journalism (The Guilford Communication Series)
Hardcover

* Individual store prices may vary.
Other Editions of This Title:
Paperback (1/17/2001)
Description
This compelling, often surprising book demonstrates the ways news articles of today draw from age-old tales that have chastened, challenged, entertained, and entranced people since the beginning of time. Through an insightful exploration of hundreds of New York Times articles, award-winning professor and former journalist Jack Lule reveals mythical themes in reporting on topics from terrorist hijackings to Huey Newton, from Mother Teresa to Mike Tyson. Beneath the fresh facade of current events, Lule identifies such enduring archetypes as the innocent victim, the good mother, the hero, and the trickster. In doing so, he sheds light on how media coverage shapes our thinking about many of the confounding issues of our day, including foreign policy, terrorism, race relations, and political dissent.

Winner of the MEA's 2002 Lewis Mumford Award for Outstanding Scholarship in the Ecology of Technics
Praise For Daily News, Eternal Stories: The Mythological Role of Journalism (The Guilford Communication Series)…
"Jack Lule has been known for years as a skilled and subtle interpreter of news narratives. In Daily News, Eternal Stories, Lule convincingly argues that storytelling, not information dissemination, is the core activity of journalism. He finds mythic themes in every nook and cranny of the news--in stories about everything from terrorism and disaster to the exploits of Mark McGwire, Mother Teresa, and Huey Newton. Daily News, Eternal Stories is a wonderful book--smart, humane, witty, and passionate." --John Pauly, Professor of Communication and American Studies, Saint Louis University

"This splendid book enters the debates over the crisis in news with a provocative thesis that no one can ignore. To resolve our confusion over the social role of newsmakers, the author argues for understanding the news as myth. In dramatic fashion, The New York Times becomes state scribe, the latest in a long line of privileged storytellers. Communications scholarship for years has played with the intriguing relation of mythmaking to news. Here that idea finally comes into its own--with intelligence, mastery of the literature, and a graceful style. This is a landmark book in the sociology of news. It will be cover-to-cover reading for students of journalism, media, and cultural studies." --Clifford G. Christians, Director, Institute of Communications Research, University of Illinois at Urbana-Champaign

"A century ago, poets and novelists began to experiment with the relation between mythic archetypes and the clichés and stereotypes of everyday existence. Jack Lule approaches these matters from the front pages of the daily press, rather than from the pages of literature. He demonstrates basic mythic patterns in news and shows how news media are busily engaged in reviving and replaying our oldest myths. This book offers a vital perspective for understanding the structure of news in a world bathed in information." --Eric McLuhan, PhD, author of Electric Language : Understanding the Message

The Guilford Press, 9781572306080, 245pp.
Publication Date: January 16, 2001
About the Author
Jack Lule is Professor and Chair in the Department of Journalism and Communication at Lehigh University in Bethlehem, PA. He is the author of more than 50 articles, book chapters, essays, and reviews and has won numerous awards for excellence in research and teaching. He serves on the editorial board of Journalism and Mass Communication Quarterly. A former bartender, truck driver and reporter, Lule continues to be an avid observer of the American scene and a frequent contributor to newspapers and periodicals.

or
Not Currently Available for Direct Purchase