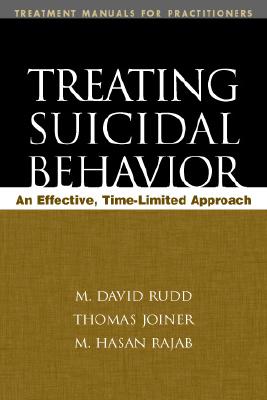 Treating Suicidal Behavior: An Effective, Time-Limited Approach (Hardcover)
An Effective, Time-Limited Approach
Guilford Publications, 9781572306141, 274pp.
Publication Date: November 14, 2000
* Individual store prices may vary.
or
Not Currently Available for Direct Purchase
Description
Grounded in a comprehensive model of suicidality, this volume describes an empirically supported cognitive-behavioral treatment approach. The clinician is guided to assess suicidal behavior and implement interventions tailored to the severity, chronicity, and diagnostic complexity of the patient's symptoms. Provided are session-by-session guidelines and clear-cut strategies for defusing the initial crisis; reducing suicidal behavior; restructuring suicide-related beliefs; and building interpersonal assertiveness, distress tolerance, problem solving, and other key skills. A special chapter covers risk assessment. Enhancing the book's utility are tables, figures, and sample handouts and forms, some of which may be reproduced for professional use.
About the Author
M. David Rudd, PhD, ABPP, is Professor of Psychology and Director of Clinical Training at Baylor University. He also maintains a part-time private practice. Dr. Rudd received his doctorate from the University of Texas at Austin and completed postdoctoral training at the Beck Institute in Philadelphia. He is the author of over 60 articles and book chapters. Thomas E. Joiner, PhD, is Professor of Psychology and Director of the Psychology Clinic at Florida State University. He completed his doctoral training at the University of Texas at Austin. Dr. Joiner has authored over 100 articles and book chapters in the areas of depression, eating disorders, and suicidality. M. Hasan Rajab, PhD, is Associate Professor in the Department of Psychiatry and Behavioral Science at Texas A&M Health Science Center. Dr. Rajab completed his doctoral training in biostatistics at Texas A&M University. He is the author of several articles addressing a range of issues in methodology and biostatistics.
Praise For Treating Suicidal Behavior: An Effective, Time-Limited Approach…
"Offer[s] clinicians for the first time a flexible and unique therapeutic program that is direct, time-limited, and buttressed by empirical support. Thus, clinicians facing the urgency of suicidal behavior can decide on the content and timing of interventions designed to eliminate suicidal behavior, and assess in an ongoing way the effectiveness of their efforts. Even if not often confronted with suicidal behavior, clinicians who become familiar with the procedures outlined in this manual will gain confidence in their ability to deal with suicidal crises." --From the Series Editor Note by David H. Barlow

"This important book presents a short-term cognitive-behavioral treatment model that will be perused with interest by all contemporary suicidologists. The authors are exemplary scientist-practitioners within the field of psychology. They have produced a noteworthy, clinically useful contribution." --Edwin S. Shneidman, PhD., Professor of Thanatology Emeritus, University of California, Los Angeles

"From premier scholar-clinicians, this remarkable book deftly guides the practitioner through the considerable challenges of working with suicidal patients. It is among the first (and only) comprehensive works of its kind. The authors manage to incorporate the wisdom of empirical science into a realistic and user-friendly practical approach, a rare accomplishment in the contemporary literature. The liberal use of intriguing case examples helps illustrate a broad range of theoretically grounded, intuitively appealing techniques and interventions that are essential to lifesaving clinical work. Written with great clarity, the book will be valuable for everyone from graduate students to mature clinicians. I am certain that the ripple of this book's impact on the field of clinical suicidology will be seen for many years to come." --David A. Jobes, PhD, Department of Psychology, The Catholic University of America; Past President, American Association of Suicidology

"This book fills an important gap in the array of manualized treatment approaches that are currently available. Drawing on extensive research and experience in the treatment of suicidal individuals, the authors have fashioned a flexible, empirically validated, time-limited approach that will be welcomed by therapists of all persuasions. The book provides specific, detailed information on the 'why' and 'how' of a variety of integrated techniques. Replete with assessment forms, charts, and practical guidelines, this book will serve as a basic reference for therapists facing one of the most challenging clinical situations." --George A. Clum, PhD, Department of Psychology, Virginia Polytechnic Institute and State University
Advertisement