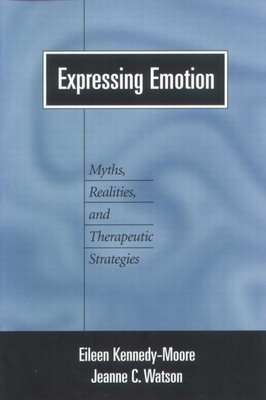 Expressing Emotion
Myths, Realities, and Therapeutic Strategies (Emotions and Social Behavior)
Paperback

* Individual store prices may vary.
Other Editions of This Title:
Hardcover (6/11/1999)
Description
Emotional expression is the link between internal experience and the outside world. It is intimately connected to who we are, how we feel, and how we relate to others. In daily life, expression enables people to communicate with each other and influence relationships; in psychotherapy, it provides important information about how clients are feeling and how they are relating to the therapist. This lucid volume examines expressions of such feelings as love, anger, and sadness, and highlights the individual and interpersonal processes that shape emotional behavior. It offers a lively and comprehensive discussion of the role of emotional expression and nonexpression in individual adaptation, social interaction, and therapeutic process.

Drawing upon extensive theory and research, the authors provide coherent guidelines to help clinicians, researchers, and students identify, conceptualize, and treat problems in emotional behavior. They show that expression and nonexpression come in many different forms, with a wide range of personal and relational consequences. The effects of expressing one's feelings depend on what is expressed, to whom, in what way, and in what context. Expression can lead to greater self-knowledge, enhanced coping, and fuller intimacy, but it can also result in embarrassment, misunderstanding, or rejection. Conversely, nonexpression can involve a frustrating lack of opportunity to express, or problems in accessing or articulating feelings, but it can also reflect cultural values or effective coping efforts. Through vivid clinical examples, the authors illuminate a range of problems related to both expression and nonexpression, and provide insight into how these can be addressed in individual and couple therapy.

This practical and clearly written guide is an important resource for teachers, students, and researchers of clinical, counseling, social, personality, and health psychology, as well as practicing counselors and psychotherapists. It will also serve as a text in advanced undergraduate and graduate-level courses on emotion and interpersonal communication, and in graduate-level counseling and psychotherapy seminars.

Praise For Expressing Emotion: Myths, Realities, and Therapeutic Strategies (Emotions and Social Behavior)…
"This book may well become the Michelin Guide for anyone touring the emotion literature. The authors have done a brilliant job in showing how emotion and its expression can serve as the basic organizing feature of much of modern-day psychology. This is a 'must-read' for psychology students, psychotherapists, and researchers. I will certainly use it as a text in my upper-division undergraduate and graduate courses." --James W. Pennebaker, PhD, Department of Psychology, University of Texas, Austin; author of Opening Up

"The experience and communication of emotion gives texture and meaning to our lives, and this book vividly describes how such emotional experiencing can be enhanced. The authors provide comprehensive coverage of the early socialization influences of emotional inexpressiveness. Their superb exposition also encompasses the physical, psychological, and interpersonal problems associated with the inability to identify and communicate emotions. Additionally, the book reviews clinical procedures for use in both individual and couple therapy. Providing a creative mix of research findings and clinical guidelines, this volume is an invaluable reference for clinicians and researchers alike." --Marvin R. Goldfried, PhD, Professor of Psychology, State University of New York at Stony Brook


"Accomplishe[s] the daunting feat of artfully combining a robust review of research with practical, clinical understanding....Will serve as a comprehensive source book for understanding emotions and emotional expression for decades to come....Expressing Emotion is one of those multi-talented psychological works, capable of serving as a text for undergraduate or graduate courses, as well as an enjoyable book for anyone interested in understanding the complexities of human emotions."
— Journal of Psychotherapy in Independent Practice

"A particularly relevant text for clinical psychology in the context of recent discussions of emotional intelligence and the limitations of purely behavioural or cognitive perspectives on human functioning and therapeutic change....This book addresses a very complex and intriguing topic in a stimulating, readable manner. It is pragmatic enough for the practicing therapist and stimulating enough for the theoretically oriented reader. It will find a treasured place in many a clinician's and teacher's library."
— Canadian Psychology

"The authors' comprehensive dissection of the scientific research is impressive....Succinct, ongoing summaries, precise definitions of terminology, and logical development of the process model all contribute to the overall excellence of this scientifically challenging and creative book, an essential one for researchers, psychotherapists of all orientations, professors, and students."
— Readings
The Guilford Press, 9781572306943, 365pp.
Publication Date: March 15, 2001