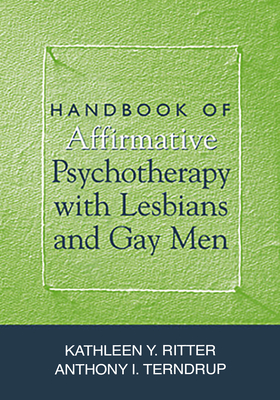 Handbook of Affirmative Psychotherapy with Lesbians and Gay Men (Hardcover)
The Guilford Press, 9781572307148, 493pp.
Publication Date: January 16, 2002
* Individual store prices may vary.
Description

Offering expert guidance on working with sexual minority clients, this comprehensive volume combines developmental and sociocultural knowledge with clinical savvy. Provided is a solid understanding of lesbian and gay identity formation and the effects of social prejudice and discrimination. Attention is given to avoiding psychodiagnostic errors, especially with clients in the process of coming out. Treatment concerns addressed include family-of-origin issues, couple problems, HIV and other health issues, challenges facing same-sex parents, and much more.



Winner--APA Division 44 Distinguished Book Award in Lesbian, Gay, and/or Bisexual Psychology
About the Author
Kathleen Y. Ritter, PhD, is Professor of Counseling Psychology at California State University, Bakersfield, and maintains a private practice. Coauthor of two previous books, she has extensive experience counseling, teaching, and presenting workshops focused on working with sexual minority clients.

Anthony I. Terndrup, PhD, is a senior staff therapist at the Pastoral Counseling Center of the Mid-Willamette Valley in Corvallis, Oregon and a member of the graduate faculty in Counselor Education at Oregon State University. He is Past President of the Association for Gay, Lesbian and Bisexual Issues in Counseling (a division of the American Counseling Association). For over 15 years, he has served sexual minority clients in a variety of clinical settings, including psychosocial rehabilitation, private practice, college counseling, and pastoral care.

Together, Drs. Ritter and Terndrup have presented over 30 continuing education workshops on sexual orientation for mental health professionals across North America.

Praise For Handbook of Affirmative Psychotherapy with Lesbians and Gay Men…
"Excellent....This book is clearly written and attractively and helpfully laid out. It offers a copious appendix of resources....Thoughtful study of this book will reward readers with an excellent education in working with lesbians and gay men to achieve a position for them in society that is no longer debilitating but healthful, respected, and possibly, esteemed."--Canadian Journal of Psychiatry

"Finally, a core text for the practice of lesbian and gay affirmative psychotherapy has arrived. This book is scholarly, clinically savvy, comprehensive, thoughtful, accessible, and pragmatic. The authors do a remarkable job of advancing a coherent point of view while remaining even-handed, balanced, and receptive to a diversity of ideas. I recommend this book without reservation to any mental health provider working with lesbian and gay clients, and to scholars seeking a basic reference on the practice of lesbian and gay affirmative psychotherapy."--John C. Gonsiorek, PhD, ABPP, Past President, American Psychological Association Division 44; Independent Practice, Minneapolis, MN

"This book meets a longstanding need in the professional literature. It is comprehensive, well grounded, and practical in its focus on the underlying issues and challenges that emerge in clinical work with lesbians and gay men. This book is an invaluable addition to the bookshelves of all mental health practitioners, as well as students. Including an extensive resource list, the book will be a useful text for courses in human sexuality, multicultural counseling, and counseling sexual minorities."--Bob Barret, PhD, Department of Counseling, Special Education and Child Development, University of North Carolina at Charlotte

"This comprehensive text not only includes all the relevant psychological literature, but also provides the reader with a sociopolitical context for understanding how heterosexism impacts the lives of lesbian, gay, and bisexual people. A unique aspect of the book is the thorough presentation of affirmative psychotherapy interventions. Particularly noteworthy is the discussion of misdiagnosis that occurs when stress associated with having a stigmatized identity is mistaken for evidence of psychopathology. This text should be required reading for graduate students in the mental health professions, as well as practitioners working with diverse lesbian, gay, and bisexual clients. Many sections of the book would also be useful for undergraduate students in Psychology, Sociology, and Women's, LGBT, or Gender Studies."--Christine Browning, PhD, Senior Staff Psychologist, University of California, Irvine Counseling Center; Past President, APA Division 44 (Society for the Psychological Study of Lesbian, Gay, and Bisexual Issues).

"Training of mental health professionals is improving when it comes to education about LGB clients, but there are still many graduate programs and many textbooks that barely touch on these important issues....The amount of research reviewed here and the implications drawn from that research are outstanding....No matter how knowledgeable readers believe themselves to be on LGB issues and no matter whether students, therapists, educators, or researchers, they will be pleased at how much more they will learn from this book."--from the Foreword by Sari H. Dworkin, PhD

"An excellent resource for ideas about how to create the best possible therapeutic environment for a sexual minority client."
— Contemporary Psychology
"This useful and comprehensive volume addresses the needs of the psychotherapeutic community in capturing the complex multidimensionality of LGB experience in today's society and the psychological issues that surround this....A supremely useful book that can inform both straight and LGB therapists."
— Journal of Cognitive Psychotherapy
"From the LGB teenager to the senior citizen and the single gay man to the committed lesbian couple, the Handbook details the rich and varied aspects of sexual minorities in clear, concise details that will enable the mental health professional to better connect with this often underserved segment of the population."
— Social Work Today
or
Not Currently Available for Direct Purchase