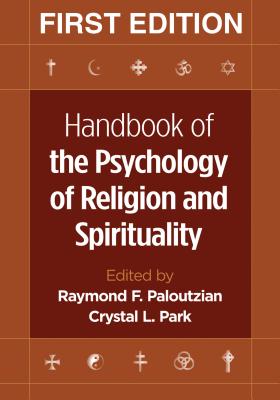 Handbook of the Psychology of Religion and Spirituality, First Edition (Hardcover)
The Guilford Press, 9781572309227, 590pp.
Publication Date: August 24, 2005
* Individual store prices may vary.
Description
From foremost authorities in the field, this comprehensive volume synthesizes the breadth of current knowledge on the psychological processes underlying spirituality, religious behavior, and religious experience. Presented are cutting-edge theories, conceptual frameworks, methodologies, and empirical findings emerging from all psychological subdisciplines. Coverage includes the neural and cognitive bases of religiousness; social, personality, and developmental issues; religion as a meaning system; and implications for behavior, mental health, and clinical practice. Seamlessly edited, the Handbook provides a definitive portrait of the current state of the science, fosters the development of integrative theory, and identifies vital directions for future research.

About the Author
Raymond F. Paloutzian, PhD, is Professor of Experimental and Social Psychology at Westmont College in Santa Barbara, California. Previously, he taught at the University of Idaho and was a visiting professor at Stanford University and a guest professor at Katholieke Universiteit, Leuven, Belgium. A Fellow of the American Psychological Association (APA), the American Psychological Society, and the Western Psychological Association, Dr. Paloutzian is a past president of APA Division 36 (Psychology of Religion). He is the author of Invitation to the Psychology of Religion, Second Edition, and the editor of The International Journal for the Psychology of Religion.

Crystal L. Park, PhD, is Associate Professor of Psychology at the University of Connecticut. Her research focuses on the roles of religious beliefs and religious coping in response to stressful life events, the phenomenon of stress-related growth, and people's attempts to find meaning in negative life events. She is associate editor of Psychology and Health and is on the editorial boards of the Journal of Clinical and Consulting Psychology and The International Journal for the Psychology of Religion. A past president of APA Division 36, Dr. Park is also Principal Investigator on research projects funded by the Lance Armstrong Foundation (examining positive life changes in cancer survivors) and the Fetzer Foundation (examining changes in spirituality and well-being in patients with terminal heart failure).

Praise For Handbook of the Psychology of Religion and Spirituality, First Edition…
"Kudos to Paloutzian and Park for assembling this state-of-the-art review of the burgeoning psychological science of religion. From every angle, leading investigators explore religion's roots and fruits. For students and scholars of psychology-religion studies, the Handbook of the Psychology of Religion and Spirituality is an important publishing event."--David G. Myers, PhD, Department of Psychology, Hope College

"Paloutzian and Park have produced a marvelous volume that is long overdue. This handbook is a monumental achievement, bringing together the most prominent scholars to survey the development of research and its promise in specialized areas of the field. This work reflects the remarkable breadth and depth of the growing discipline of the psychology of religion, and is a 'must' for social scientists, clinicians, teachers, and students with serious interest in religion."--W. Paul Williamson, PhD, Department of Psychology, Henderson State University

"This handbook sends a clear message that religion has come of age as a fertile ground for exciting psychological theory and research. It is noteworthy that so many diverse psychological disciplines--including cognitive, developmental, personality, social, neuropsychological, health, and existential psychology--have something meaningful to say about religion and spirituality. This book will be a 'go-to' resource for anyone involved in research in this area, including graduate students, established researchers who may be new to the study of religion and spirituality, and those already involved in work on religion and spirituality who wish to broaden their perspective."--Susan Folkman, PhD, Osher Center for Integrative Medicine, University of California, San Francisco

"Panoramic in scope, this volume provides a unique and unparalleled survey of a fast-developing field. While much of the recently published work in this area has been clinical in focus, the Handbook connects broadly with psychological science, addressing developmental issues, evolutionary psychology, neuropsychology, cognitive science, social psychology, and personality psychology, as well as various applied topics. It thus serves as an advanced primer for virtually the whole spectrum of contemporary scientific research on this ubiquitous domain of human functioning. This is clearly the text for graduate-level surveys in the psychology of religion and will prove an important teaching resource for other courses in social psychology, personality psychology, and multicultural psychology. Likely to set the standard for future efforts in this area."--William L. Hathaway, PhD, Department of Psychology, Regent University

"A valuable introduction....Comprehensive....I found particularly valuable 1) discussion of definitions in behavioral terms of religion, religiosity, and spirituality; 2) the study of the importance of meaning from a behavioral perspective; 3) the perspective of evolutionary psychology which intersects with issues in theological anthropology."
— Journal for the Study of Marriage and Spirituality
"This book is an indispensable contribution to the psychology of religion and spirituality, and one that I am privileged to have on my bookshelves....The editors are to be warmly congratulated on giving us such an informative, illuminating, and valuable book."
— Scientific and Medical Network Online Book Reviews
"By creating the most comprehensive work to date by leading scholars in their respective fields and by giving path and purpose to the psychology of religion through the development of a multilevel inter-disciplinary paradigm, Paloutzian and Park have fruitfully contributed to the progression of this field and indirectly to all fields of study. Their epistemology endeavor not only progresses how we think about entire fields of inquiry, but has the potential to progress the way we think about ourselves; specifically, our intimate interconnectedness to each other....Offers many of the pieces necessary to continue slowly piecing together our contemporary mosaic of psychological knowledge."
— Journal of Muslim Mental Health
"Paloutzian and Park have collected an immense amount of literature that has both breadth and depth. This volume is definitely for the academician and the student of psychology and religion and/or spirituality....Will make a strong contribution to the literature on religion and spirituality in psychology and is a must-have primer for all who are committed to the intersection of religion, spirituality, and psychology."
— Family Journal
"Has packed together thirty chapters that can serve quite a few sumptuous meals....As a handbook, it has accomplished its objective quite successfully, and can definitely serve as a good resource for scholars, practitioners, and students....I enjoyed reading the book, cover to cover. There are sections that are informative, ideas that are stimulating, findings and observations that are intriguing, and there is quite a bit of cross-referencing and dialogue among the contributors."
— Families in Society
"A must book. It is worth it just for the bibliographic information....It is a study that informs and guides the reader through the religious maze, but also brings to the historical/doctrinal glimpses important markers to engage us in our work of caring, whether it be as a therapist or counselor, bereavement counselor, clergyperson, social worker, or health care professional....Brings together contributions from an impressive list of researchers and psychologists."
— Illness, Crisis and Loss
"The text will be useful to both senior and junior scholars who are new to the psychology of religion and spirituality (PORS) as an introduction to some of the field's history as well as contemporary concerns and interests; it will also provide stimulation for those already familiar with PORS debates and topics. I have asked our library to obtain a copy for our permanent collection....One distinctive feature of the present work is that it attempts to use a series of themes to evaluate the selected subject matter....A scope wide enough to draw and please a diverse readership, who will appreciate the greater depth of coverage in the areas represented....The Handbook provides a neat package of information that will help people both within psychology and from other spheres of inquiry explore some of the historical and contemporary issues in PORS. If, for whatever reason, you or your students are having trouble settling on an idea for a research project in the area of PORS, place the spine of the text on the table and let it fall open....Solid scholarship."
— PsycCRITIQUES
or
Not Currently Available for Direct Purchase