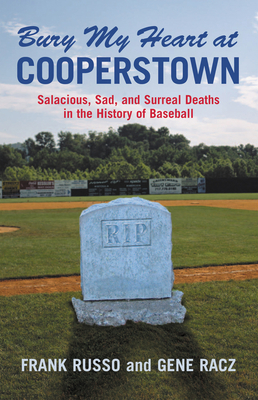 Bury My Heart at Cooperstown
Salacious, Sad, and Surreal Deaths in the History of Baseball
Paperback

* Individual store prices may vary.
Description
An entertaining look at how a number of baseball players have left fthe game all too soon, this book covers murders, suicides, accidents and bizarre mishaps, deaths by alcoholism, and even deaths by sexually transmitted diseases. The ever amusing and interesting stories include James Phelps, who made a running catch, was bitten by a poisonous snake, finished the game, then promptly died; Harold B. "Rowdy" Elliott, who fell out of an apartment window in San Francisco in 1934 at the age of 33; Gus Sandberg, who's demise was when he decided to light a match to see how much gas was in the tank of his car; Dernell Stensen, who was shot in the chest and head and run over by his own SUV in 2003 at the age of 25; Len Koenecke, who got his head smashed in by a pilot as he tried to grab controls in the cockpit of a commercial airplane flying from Chicago to Buffalo in 1935; and love-sick, star-stuck Bob Lansford, who poisoned himself to death with a picture of a young actress in front of him in 1907. There are countless offbeat facts, trivia, and even specific locations of where many of the ballplayers are buried such as Lou Gehrig, Babe Ruth, Billy Martin, and many more. The book also provides you with a grave-hunting for dummies chapter with tips on how to find your favorite deceased ballplayer.
Triumph Books, 9781572438224, 224pp.
Publication Date: April 1, 2006
About the Author
Frank Russo is a former radio announcer and the operator of the website www.thedeadballera.com. He is a nationally recognized baseball researcher and a member of the Society for American Baseball Research. Gene Racz is a journalist. They both live in East Brunswick, New Jersey.