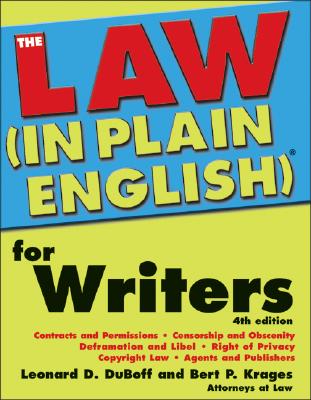 The Law (in Plain English)(R) for Writers (Paperback)
Sphinx Publishing, 9781572484764, 296pp.
Publication Date: May 1, 2005
* Individual store prices may vary.
Description
The Law (In Plain English)(R) for Writers describes how to profit from your writing. It explains how to succeed in every area affecting a writer's livelihood, from submissions and permissions to royalties and taxes.

About the Author
Leonard D DuBoff is an internationally recognized expert who has lectured on

legal issues throughout the world. He began his legal career as a practicing lawyer in New York, then relocated to Palo Alto, California, where he started his teaching career at the Stanford Law School. Subsequently, he moved to Portland, Oregon, where he taught law at Lewis & Clark Law School. DuBoff spent almost a quarter of a century teaching business and intellectual property law.

While a full-time law professor, DuBoff was also Of Counsel to law firms, and maintained those relationships until 1994, when he left full-time teaching to found his own law firm. His firm, now known as the DuBoff Law Group, LLC, specializes in business and intellectual property law, representing writers, publishers, and others involved in creative endeavors. DuBoff has received academic awards from President Lyndon Johnson and New York Governor Nelson Rockefeller. In 1990, he received the Governor's Arts Award from Governor Neil Goldschmidt of Oregon.

Not only does Leonard DuBoff practice law, but he has also been involved in its creation. In the late 1980s he testified in support of the Visual Artist's Rights Act of 1990, at the request of Senator Edward Kennedy of Massachusetts. He has also provided Congress with testimony related to accession to several cultural and intellectual property treaties and he has worked with state legislatures on their legislation as well.

A prolific author, DuBoff has written numerous articles for scholarly journals, practical articles for lawyers' bar publications, and articles for nonlawyers. He has regular columns in several magazines, and has written several books, including the Publishers Legal Guide and Art Law in a Nutshell.

Bert P. Krages II is an attorney who has been practicing law in Portland, Oregon since 1987. He obtained his undergraduate degree from Northwestern University, a master's degree from the University of North Carolina at Chapel Hill, and his law degree from the University of Oregon.

He has had a lifelong interest in books. He is the author of Total Environmental Compliance (Lewis Publishers 2000), Legal Handbook for Photographers (Amherst Media 2001), Heavenly Bodies (Amherst Media 2003), and Photography: The Art of Composition (Allworth Press 2005). In addition to representing writers on publishing law and copyright matters, he is nationally recognized as a public advocate for the rights of photographers to document what they see in public places.
or
Not Currently Available for Direct Purchase