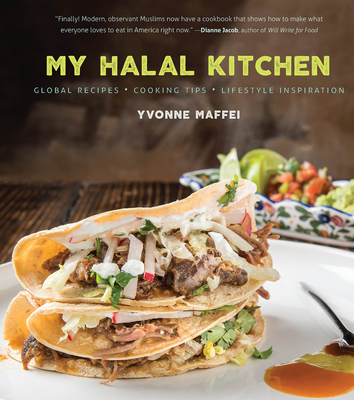 My Halal Kitchen
Global Recipes, Cooking Tips, and Lifestyle Inspiration
Hardcover

* Individual store prices may vary.
Description
Yvonne Maffei is the founder of the hugely popular cooking blog and Islamic lifestyle website My Halal Kitchen. Her new book, My Halal Kitchen: Global Recipes, Cooking Tips, and Lifestyle Inspiration, celebrates halal cooking and shows readers how easy it can be to prepare halal meals. Her cookbook collects more than 100 recipes from a variety of culinary traditions, proving that halal meals can be full of diverse flavors. Home cooks will learn to make classic American favorites and comfort foods, as well as international dishes that previously may have seemed out of reach: Coq without the Vin, Shrimp Pad Thai, Chicken Tamales, and many more. The book also includes resources that break down the basics of halal cooking and outline common non-halal ingredients, their replacements, and how to purchase (or make) them. As Maffei often says to her million-plus social media followers, halal cooking elegantly dovetails with holistic living and using locally sourced, organic ingredients. In the halal tradition, every part of the farm-to-fork cycle has importance. This book is an ideal resource not only for Muslim home cooks, but also for any home cook looking to find delicious and healthy recipes from around the globe.
Agate Surrey, 9781572841741, 224pp.
Publication Date: July 12, 2016
About the Author
Yvonne Maffei is the founder of the hugely popular cooking blog and Islamic lifestyle website MyHalalKitchen.com. She has earned a vast following in the United States and internationally, including a Facebook page totaling nearly one million likes. Born in Ohio to Sicilian and Puerto Rican parents, Maffei developed a love of many diverse culinary styles. Between her B.A. and M.A. in International Studies at Ohio University and trips spanning the globe, Maffei honed her cooking skills and ability to adapt a wide range of cuisines to her family's dietary customs. Her recipes specialize in adhering to halal standards while also focusing on all-natural, organic ingredients. She currently lives with her family outside Chicago, IL.