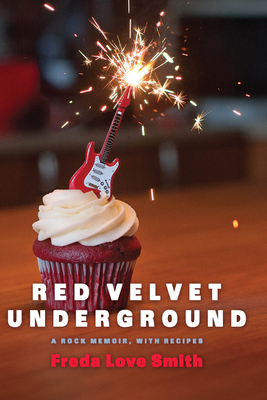 Red Velvet Underground (Paperback)
A Rock Memoir, with Recipes
Agate Midway, 9781572841758, 208pp.
Publication Date: October 13, 2015
* Individual store prices may vary.
Description
Part memoir, part cookbook, and all rock and roll, Red Velvet Underground tells the story of how musician Freda Love Smith's indie-rock past grew into her family- and food-centric present. Smith, born in Nashville and raised in Indiana, is best known as the drummer and co-founder of bands such as the Boston-based Blake Babies, Antenna, and the Mysteries of Life. Red Velvet Underground is loosely framed around cooking lessons Smith gave to her eldest son, Jonah, before he left for college. Smith compares her son's experiences to her own--meeting Juliana Hatfield and starting the Blake Babies, touring in Evan Dando's hand-me-down station wagon, and crashing with Henry Rollins, who introduced the band to local California fare--all while plumbing the deeper meanings behind the role of food, cooking, and family. Interspersed throughout these stories are 45 flexitarian recipes--mostly, but not exclusively, vegetarian--such as red pepper-cashew spread, spinach and brazil nut pesto, and vegan strawberry-cream scones. Throughout the book, Smith reveals how food, in addition to music, has evolved into an important means for creativity and improvisation. Red Velvet Underground is an engaging exploration of the ways food and music have informed identity through every stage of one woman's life.
About the Author
Freda Love Smith is a lecturer in the School of Communication at Northwestern University. She is the co-founder of the bands The Mysteries of Life and The Blake Babies, who were regulars on MTV and critically applauded in The Village Voice, Rolling Stone, and Spin. Her songs have been licensed widely, from the 2003 Disney film Freaky Friday to American Airlines in-flight entertainment programs. She has a monthly column in Paste and her short stories have appeared in journals such as The North American Review, Smokelong, Bound Off, and Riptide. She lives in Evanston, IL, with her partner, Jake Smith, and two sons.
or
Not Currently Available for Direct Purchase