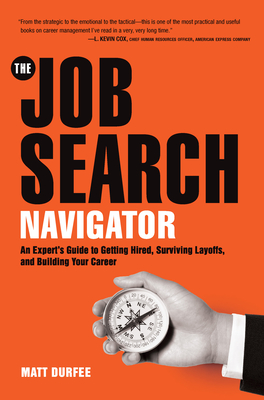 The Job Search Navigator (Paperback)
An Expert's Guide to Getting Hired, Surviving Layoffs, and Building Your Career
Agate B2, 9781572841857, 264pp.
Publication Date: January 5, 2016
* Individual store prices may vary.
Description
The Job Search Navigator is a comprehensive guide to finding a new job in today's evolving career marketplace. Author Matt Durfee writes from the perspective of someone who has both recruited for some of America's biggest companies and navigated his way through nine of his own job losses. The book combines practical real-world perspectives with the technical knowledge job seekers need in order to excel at every aspect of their searches. Drawing on the knowledge Durfee accumulated through his own experiences, searches, and big-brand corporate hiring responsibilities, The Job Search Navigator abandons the "clinical approach" of many other career-advice books. Instead, Durfee gives easy-to-follow strategies and, perhaps more importantly, recounts in illuminating detail the kinds of mistakes that led him to develop these strategies. Despite recent reports of soaring corporate profits and gross domestic product growth, the effects of the Great Recession are still very real to the nearly 20 million Americans who are either jobless or underemployed. In these uncertain times, The Job Search Navigator is a reliable guide to every step of the 21st-century job hunt, whether readers are laid off, wanting to change careers after surviving cutbacks, or seeking a better full-time gig in a stagnant marketplace.
About the Author
Matt Durfee is the founder and president of Navigator Executive Advisors, Inc. and the Navigator Institute, two career services firms providing outplacement, executive search and leadership development support to global employers and individual clients. Prior to launching the firms in 2006, Matt held chief human resources officer, senior vice president, vice president, and human resources management positions in a number of the world's most admired companies including PepsiCo, Hard Rock Cafe, Frito-Lay International, Bank One, Nestle, Coca-Cola Enterprises, and Marriott International. He earned his master's degree in Human Resources & Labor Relations from Michigan State University. His national newspaper columns for American City Business Journals, "Navigating Your Job Search" and "Coach's Corner," appeared in 40 major US markets. He lives in Orlando, Florida. William N. Cooke, PhD, is a professor at and director of Michigan State University's School of Human Resources and Labor Relations. He received his PhD from the University of Illinois in 1977 and has served on the faculty at the University of Michigan, Purdue University, and Wayne State University, and held visiting faculty positions at Cornell University and the University of California, Berkeley. He currently serves as Chair of the University Council of IR and HR Programs, LERA. He is the author of numerous articles and several books about multinational companies and their global HR/LR strategies. He lives in East Lansing, Michigan.