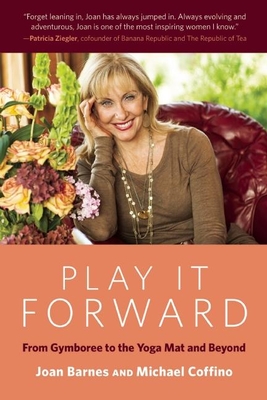 Play It Forward (Paperback)
From Gymboree to the Yoga Mat and Beyond
Agate B2, 9781572841901, 256pp.
Publication Date: May 10, 2016
* Individual store prices may vary.
Description
Play It Forward details the remarkable journey of Joan Barnes, founder and former CEO of Gymboree, and how she learned to align her inner life with outward success. Forty years ago, Joan Barnes founded a play center in a church basement with $3,000. Determined to enable women to achieve personal and entrepreneurial success, Barnes led Gymboree to become an innovative leader in a new industry: activity-based early childhood development. The company eventually became a global billion-dollar brand. But this dramatic entrepreneurial memoir is also a cautionary tale and redemption story. When Gymboree's IPO became a phenomenal success story, Barnes was nowhere near Wall Street. She had left the company because of an eating disorder that threatened to destroy her and everything she built. Barnes overcame the disorder, charting a path that replaced demons with an enduring sense of worth and hope. She eventually resumed her business career on healthier terms with a line of yoga studios in an inspiring example of how women can triumph through reinvention. Published to coincide with Gymboree's 40th anniversary, Play It Forward offers readers a deeply honest perspective of the challenges of business building and seeking a work-life balance in tune with personal values.
About the Author
Joan Barnes is an entrepreneur who built two consumer companies from the ground up. She founded and served as CEO of Gymboree, an international network of franchised play programs and company-owned retail stores. In 1993, Gymboree enjoyed one of the most successful consumer IPOs of the decade. Later, in 2010, Bain Capital took Gymboree private for $1.8 billion. Ms. Barnes was the principal owner of San Francisco-based YogaStudio for over a decade, pioneering "yoga lifestyle" in the mainstream. Her yoga business was acquired in late 2008 by Yoga Works, a chain of nearly 30 yoga studios, which in turn was sold in 2014 for $50 million. She also founded Begin from Within through the Jewish Family and Children's Services of San Francisco, which features programs dedicated to people with food, weight, and body image issues. A native of suburban Chicago, Ms. Barnes received a B.A. in dance and English from Briarcliff College in Briarcliff Manor, New York. She is the mother of two grown daughters and grandmother of two granddaughters and one grandson.

Michael Coffino spent 36 years as a successful business litigator, trial attorney, writing coach, and mentor to young attorneys. During his legal career, he was a trusted advisor to CEOs, Boards of Directors, and General Counsels of public companies. He also had a 23-year career as a basketball coach, primarily in high school. He led several teams to league championships. Born in the Bronx, Mr. Coffino graduated from the City University of New York with a B.S. in Education and went on to earn his J.D. from the University of California, Berkeley School of Law. He is the father of two adult boys.