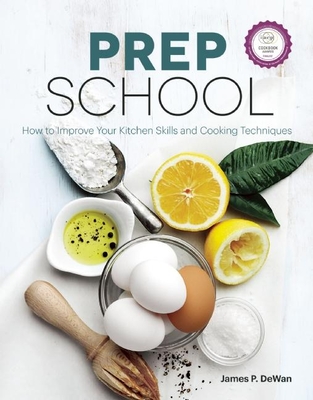 Prep School (Paperback)
How to Improve Your Kitchen Skills and Cooking Techniques
Agate Surrey, 9781572841987, 352pp.
Publication Date: August 2, 2016
Other Editions of This Title:
Hardcover (10/8/2013)
* Individual store prices may vary.
Description
Finalist for 2014 International Association of Culinary Professionals' Best Compilation Cookbook Award Prep School is the ultimate collection of the weekly Chicago Tribune column of the same name, written by culinary instructor and award-winning food writer James P. DeWan. This compilation is focused on teaching readers how to become better cooks, from amateurs who are learning to cook for themselves or their families to professional and gourmet chefs who are searching to perfect their technique. Illustrated with full-color photography and a plethora of simple, plainspoken instructions, Prep School is an easy go-to guide for becoming more adept at any kitchen skill. Prep School is filled with more than 50 delicious recipes, as well as insightful and straightforward tips on knife skills, preparation techniques, pantry essentials, holiday meals, and general advice on how to make your kitchen as user-friendly as possible. Before any home cook or professional chef picks up a cookbook, they should first pick up Prep School and be sure to take DeWan's advice to heart. His recommendations on improving kitchen efficiency and ease, along with his in-depth knowledge of shortcuts and cooking common sense, make DeWan the perfect teacher for any aspiring culinary student.
About the Author
James P. DeWan is a chef, culinary instructor, and award-winning food writer. He writes a Chicago Tribune column called "Prep School," and has served on the culinary faculty at Kendall College in Chicago. The Chicago Tribune, founded in 1847, is the flagship newspaper of the Tribune Company. Its staff comprises dedicated, award-winning journalists who have authored many best-selling books.