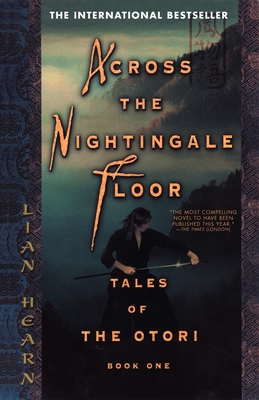 Across the Nightingale Floor (Paperback)
Tales of the Otori Book One
Riverhead Books, 9781573223324, 320pp.
Publication Date: June 3, 2003
* Individual store prices may vary.
Description
An international bestseller, Across the Nightingale Floor is the first book in the Tales of the Otori series by Lian Hearn. Don't miss the related series, The Tale of Shikanoko.

In his black-walled fortress at Inuyama, the warlord Iida Sadamu surveys his famous nightingale floor. Constructed with exquisite skill, it sings at the tread of each human foot. No assassin can cross it unheard.
The youth Takeo has been brought up in a remote mountain village among the Hidden, a reclusive and spiritual people who have taught him only the ways of peace. But unbeknownst to him, his father was a celebrated assassin and a member of the Tribe, an ancient network of families with extraordinary, preternatural skills. When Takeo's village is pillaged, he is rescued and adopted by the mysterious Lord Otori Shigeru. Under the tutelage of Shigeru, he learns that he too possesses the skills of the Tribe. And, with this knowledge, he embarks on a journey that will lead him across the famed nightingale floor—and to his own unimaginable destiny...


About the Author
Lian Hearn is the pseudonym for the writer Gillian Rubinstein, currently living in Australia, who has a lifelong interest in Japan, has lived there, and speaks Japanese. All five books in the Tales of the Otori series—Across the Nightingale Floor, Grass for His Pillow, Brilliance of the Moon, The Harsh Cry of the Heron, and Heaven's Net is Wide—are available now from Riverhead Books. Don't miss the related series, The Tale of Shikanoko.
Praise For Across the Nightingale Floor: Tales of the Otori Book One…
"Satisfyingly rich in incident yet admirably spare in the telling...Hearn has created a world I anticipate returning to with pleasure."—
The New York Times Book Review
"The most compelling novel to have been published this year."—The Times (London)
"The most extraordinary novel...The passion and rapture of this story is so compelling that it's almost worth delaying your holiday for."—The Independent on Sunday (UK)
"Complex...fast-paced, arousing adventure reminiscent of Arthurian legend that's told with all the urgency of a modern-day thriller."—Book Magazine
"Across the Nightingale Floor is as exciting a debut as any in recent years—part Shogun, part Lord of the Flies and entirely enchanting."—Milwaukee Journal Sentinel