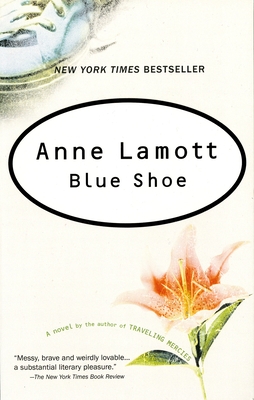 Blue Shoe (Paperback)
Riverhead Books, 9781573223423, 336pp.
Publication Date: September 2, 2003
Other Editions of This Title:
Digital Audiobook (5/6/2019)
Compact Disc (9/30/2002)
Hardcover (9/30/2002)
Compact Disc (10/6/2015)
MP3 CD (1/27/2015)
Audio Cassette (9/1/2002)
Compact Disc (9/30/2002)
MP3 CD (6/10/2004)
MP3 CD (6/10/2004)
* Individual store prices may vary.
Description
The New York Times Bestseller from the beloved author of Bird by Bird, Hallelujah Anyway, and Almost Everything
Mattie Ryder is marvelously neurotic, well-intentioned, funny, religious, sarcastic, tender, angry, and broke. Her life at the moment is a wreck: her marriage has failed, her mother is failing, her house is rotting, her waist is expanding, her children are misbehaving, and she has a crush on a married man. Then she finds a small rubber blue shoe—nothing more than a gumball trinket—left behind by her father. For Mattie, it becomes a talisman—a chance to recognize the past for what it was, to see the future as she always hoped it could be, and to finally understand her family, herself, and the ever-unfolding mystery of her sweet, sad, and sometimes surprising life.
About the Author
Anne Lamott is the New York Times bestselling author of Help, Thanks, Wow; Small Victories; Stitches; Some Assembly Required; Grace (Eventually); Plan B; Traveling Mercies; Bird by Bird; Operating Instructions, and the forthcoming Hallelujah Anyway. She is also the author of several novels, including Imperfect Birds and Rosie. A past recipient of a Guggenheim Fellowship and an inductee to the California Hall of Fame, she lives in Northern California.
Praise For Blue Shoe…
"Messy, brave and weirdly lovable...a substantial literary pleasure."—
New York Times Book Review
"Moving and funny, fetchingly irreverent and soulful, Blue Shoe is an absolute joy."—Chicago Sun-Times
"Everybody loves Anne Lamott...[she] writes with an emotional shorthand that's instantly decipherable and funny to anyone who's had children—or parents."—The Christian Science Monitor
"Irresistible...Lamott has created a work full of shaggy, truthful charm."—San Francisco Chronicle
"Glorious...After reading Blue Shoe, you feel as if you had sat on the kitchen floor and talked with the author late into the night about your mothers, your bodies, your lovers, and God. And that, in a nutshell, is the minor miracle of Lamott's writing."—The Atlanta Journal Constitution
"Philosophical, honest, and poignant, Lamott writes about real life and how it goes on, through good and through bad."—Boston Herald
"The novel's effect on the reader is profoundly springlike: It is tonic."—Minneapolis Star Tribune
"Anyone who's ever had a heartache—or a family—will relate to Anne Lamott's poignant novels."—Rosie Magazine
"Blue Shoe is a gift you will want to give yourself."—St. Louis Post-Dispatch