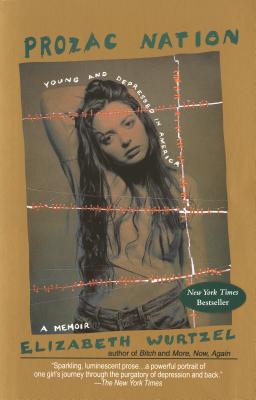 Prozac Nation (Paperback)
Riverhead Books, 9781573225120, 384pp.
Publication Date: October 1, 1995
* Individual store prices may vary.
Description
"A book that became a cultural touchstone." -- The New Yorker

Elizabeth Wurtzel writes with her finger in the faint pulse of an overdiagnosed generation whose ruling icons are Kurt Cobain, Xanax, and pierced tongues. In this famous memoir of her bouts with depression and skirmishes with drugs, Prozac Nation is a witty and sharp account of the psychopharmacology of an era for readers of Girl, Interrupted and Sylvia Plath's The Bell Jar.
About the Author
Elizabeth Wurtzel is the author of bestselling books including Prozac Nation, Bitch, and More, Now, Again. A Harvard and Yale Law School graduate whose work has appeared in such publications as The New Yorker, New York, The Guardian, and The Oxford American, she lives in New York City.
Praise For Prozac Nation…
"Wrenching and comical, self-indulgent and self-aware,
Prozac Nation
possesses the raw candor of Joan Didion's essays, the irritating emotional exhibitionism of Sylvia Plath's
The Bell Jar
, and the wry, dark humor of a Bob Dylan song."—
The New York Times
"[Wurtzel] is smart, she is funny...she is thoughtful and...she is very, very brave. Wurtzel portrays, from the inside out, an emotional life perpetually spent outrunning the relentless pursuit of what she describes as a black wave, often sacrificing her likability on the altar of her truth."—Vanity Fair
"A very important book, particularly to the countless number of people who aren't sure what's wrong with them but are suffering from the negative thinking, erratic behavior, and dark moods associated with clinical depression. A powerful self-portrait...well worth reading"—San Francisco Bay Guardian
"The saddest, funniest, and ultimately, most triumphant book about youthful depression I've come across. It reads like a mixture of J.D. Salinger and Sylvia Plath, with some Bob Dylan and Bruce Springsteen thrown in for good measure...[Wurtzel] is one canny and entertaining observer of her generation: if you've been wondering why Kurt Cobain meant what he did—what it feels like to be young, gifted, and black of spirit—this book is the CD, tape, video, and literary answer all in one."—Daphne Merkin, author of Enchantment
"A very good book, maybe even an important one, and the pain and despair Wurtzel describes are as real as they are excruciatingly rendered."—Mademoiselle