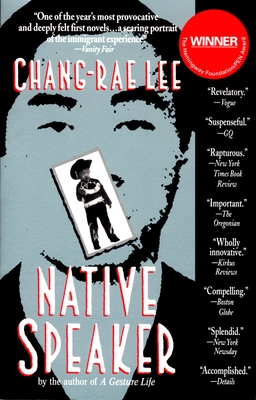 Native Speaker (Paperback)
Riverhead Books, 9781573225311, 384pp.
Publication Date: March 1, 1996
Other Editions of This Title:
Hardcover (5/7/2013)
MP3 CD (8/11/2015)
MP3 CD (9/1/2009)
MP3 CD (9/1/2009)
* Individual store prices may vary.
Description
The debut novel from critically-acclaimed and New York Times–bestselling author of On Such a Full Sea.

In Native Speaker, author Chang-rae Lee introduces readers to Henry Park. Park has spent his entire life trying to become a true American—a native speaker. But even as the essence of his adopted country continues to elude him, his Korean heritage seems to drift further and further away.

Park's harsh Korean upbringing has taught him to hide his emotions, to remember everything he learns, and most of all to feel an overwhelming sense of alienation. In other words, it has shaped him as a natural spy.

But the very attributes that help him to excel in his profession put a strain on his marriage to his American wife and stand in the way of his coming to terms with his young son's death. When he is assigned to spy on a rising Korean-American politician, his very identity is tested, and he must figure out who he is amid not only the conflicts within himself but also within the ethnic and political tensions of the New York City streets.

Native Speaker is a story of cultural alienation. It is about fathers and sons, about the desire to connect with the world rather than stand apart from it, about loyalty and betrayal, about the alien in all of us and who we finally are.
About the Author
Chang-rae Lee is the author of On Such a Full Sea, finalist for the National Book Critics Circle Award, Native Speaker, winner of the Hemingway Foundation/PEN Award for first fiction, A Gesture Life, Aloft, and The Surrendered, winner of the Dayton Peace Prize and a finalist for the Pulitzer Prize.  Selected by The New Yorker as one of the twenty best writers under forty, Chang-rae Lee teaches writing at Princeton University.
Praise For Native Speaker…
"One of the year's most provocative and deeply felt first novels...a searing portrait of the immigrant experience."—
Vanity Fair
"With echoes of Ralph Ellison, Chang-rae Lee's extraordinary debut speaks for another kind of invisible man: the Asian immigrant in America...a revelatory work of fiction."—Vogue
"The prose Lee writes is elliptical, riddling, poetic, often beautifully made."—The New Yorker
"Deft, delicate...The book's narrative is lyrical, its plot compelling...The novel's interwoven plots and themes, its slew of singular characters, and Henry's ongoing recollections and reflections are rich and enticing."—Boston Globe
"A tender meditation on love, loss, and family."—The New York Times Book Review