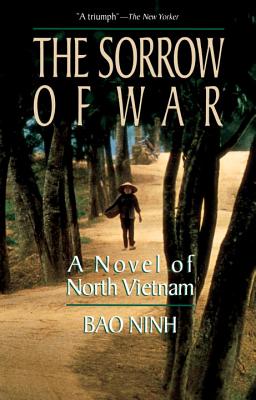 The Sorrow of War (Paperback)
A Novel of North Vietnam
Riverhead Books, 9781573225434, 240pp.
Publication Date: April 1, 1996
* Individual store prices may vary.
Description
The daring and controversial novel that took the world by storm-- a story of politics, selfhood, survival, and war. Featured in The Vietnam War series by Ken Burns and Lynn Novick airing September 2017. Bao Ninh, a former North Vietnamese soldier, provides a strikingly honest look at how the Vietnam War forever changed his life, his country, and the people who live there. Originaly published against government wishes in Vietnam because of its nonheroic, non-ideological tone, The Sorrow of War has won worldwide acclaim and become an international bestseller.
About the Author
Bao Ninh was born in Hanoi in 1952. During the Vietnam War he served with the Glorious 27th Youth Brigade. Of the five hundred who went to war with the brigade in 1969, he is one of the ten who survived. A huge bestseller in Vietnam, The Sorrow of War won The Independent Foreign Fiction Award for 1994. It is Bao Ninh's first novel.
Praise For The Sorrow of War: A Novel of North Vietnam…
"The first critical portrayal of life in the North Vietnamese army ever to appear in Vietnam . . . The censors were evidently moved by the book's unflinching sincerity and Ninh's literary gifts."
Time

"Vaults over all the American fiction that came out of the Vietnam War to take its place alongside the greatest war novel of the century, All Quiet on the Western Front. And this is to understate its qualities, for, unlike All Quiet, it is a novel about much more than war. A book about writing, about lost youth, it is also a beautiful, agonizing love story."
The Independent

"Dramatic . . . Chronicle[s] the wrecked lives of North Vietnamese soldiers who enter the war with blazing idealism, only to sink deeper into disillusionment and pessimism as everything they know falls apart around them . . . Will force American readers to acknowledge how little they still understand of the long war that left such a legacy of grief and guilt in their own country."
The Washington Post

"Powerful . . . Make[s] North Vietnamese soldiers human, wrenched by the same fear and pain as young Americans. A remarkable emotional intensity builds as the author mixes harrowing flashback scenes from the war with images from his pastoral youth, from his heartbreaking homecoming after a decade away, and finally from the nightmare calamity that ties everything else together and gives the book its tragic power . . . Finally put[s] an acceptable human face on a group of people long without one. You will never think of North Vietnam and its people the same way again."
The Philadelphia Inquirer

"An unputdownable novel. It should win the Pulitzer Prize."
The Guardian