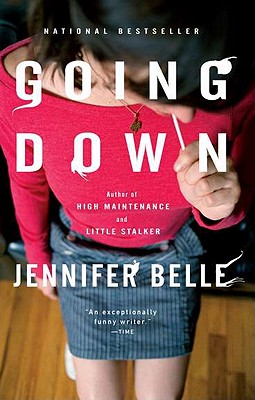 Going Down (Paperback)
Riverhead Trade, 9781573225540, 272pp.
Publication Date: July 1, 1996
* Individual store prices may vary.
Description
National Bestseller
"A funny, sad, nasty little gem of a novel."—Jay McInerney

In bestselling author Jennifer Belle's debut novel, Going Down, Belle introduces readers to Bennington Bloom, a coed working her way through college. As a call girl.

With a sharp eye for satire and a keen comic sense, Belle chronicles nineteen-year-old Bennington's high-pressure adventures. Stuck with an ulcer, a father who loves his dog like a daughter, a shrink who is hard of hearing, and New York University tuition to worry about, she's working overtime to keep it all together and doing what she can to survive. Spending the night in an abandoned hotel pool, punching pushy old women on the subway, Bennington is at an all-time low, and things are only going down from there.

A witty take on making it in the city, Going Down showcases Jennifer Belle's unerring gift for capturing the absurdities of day-to-day life. Funny and intelligent with an endearingly skewed take on life, Belle is the real thing.
About the Author
Jennifer Belle is the bestselling author of "Going Down" (for which she was named best debut novelist of the year by "Entertainment Weekly"), "High Maintenance," and "Little Stalker." Her stories and essays have appeared in "The New York Times Magazine," "The Independent" (London), "Harper's Bazaar, Cosmopolitan, Ms., Black Book, Mudfish," and many anthologies. She lives in New York City and Olivebridge, New York, with her husband and their two sons.
Praise For Going Down…
"Going Down is a very funny and sharply observed picaresque tale of a young woman's struggles in New York, featuring an irrepressible, and winning narrator. Jennifer Belle has a gift for capturing the moments of screwball comedy offered up by everyday life in the city, and making them feel not only fresh but significant."
—Jennifer Egan

"Witty, gritty, and thoroughly convincing."
—Nick Hornby

"Delightfully, sickeningly, hilariously enthralling."
—Tama Janowitz

"Imagine Holden Caulfield's siter, Phoebe, growing up and turning tricks to study acting, and you have Bennington Bloom...Alternately vulnerable and self-possessed Bloom is the main attraction of this book, but there are others: a riveting plot with menacing undercurrents and creepy details, a cast of colorful minor characters, and a happy but not sappy ending. Going Down is loaded with comical ironies...a wonderful, aberrant, compulsively readable novel: A."
—Entertainment Weekly

"The best thing about Jennifer Belle's appealing first novel is Bennigton Bloom, the near-tragic yet fantastically winning narrator...Belle has created an oddly affecting character whose self-reflexive candor and wry observations add up to an astringent, darkly comic view of New York life."
—Elle

"HIlariously endearing."
—Time Out New York

"Belle combines very funny, sharply written prose and a superb grasp of narrative...Her caustic wit and insightful observations make for a wickedly hilarious sense of humor evoking Dorthy Parker...Belle's riotous, vivid debut has the energy and gritty appeal of New York City itself."
—Publishers Weekly
or
Not Currently Available for Direct Purchase