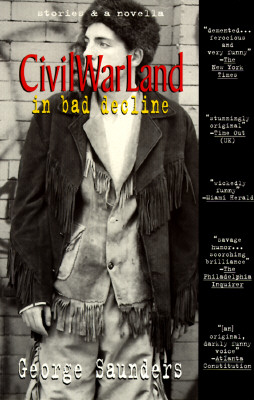 Civilwarland in Bad Decline
Paperback

* Individual store prices may vary.
Description
From theNew York Timesbestsellingauthor ofTenth of December, a 2013 National Book Award Finalist for Fiction, and the novelLincoln in the Bardo.
A
New York Times
Notable Book
Six short stories and a novella. Set in a dystopian near-future in which America has become little more than a theme park in terminal disrepair, they constitute a searching and bitterly humorous commentary on the current state of the American Dream.
Funny, sad, bleak, weird, toxic - the future of America as the Free Market runs rampant, the environment skids into disarray, and civilization dissolves into surreal chaos. These wacky, brilliant, hilarious and entirely original stories cue us in on George Saunder's skewed vision of the legacy we are creating. Against the backdrop of our devolvement, our own worst tendencies and greatest virtues are weirdly illuminated.
Praise For Civilwarland in Bad Decline…
Praise for CivilWarLand in Bad Decline:

A New York Times Notable Book

"An astoundingly tuned voice—graceful, dark, authentic, and funny—telling just the kinds of stories we need to get us through these times."—Thomas Pynchon

"The dystopian short story is alive and kicking, wearing a black leather jacket—maybe stolen in a barroom brawl—and telling deadly dark, off-color jokes. His name is George Saunders, and he's half-huckster, half-saint; he's got shades of both Denis Johnson and Raymond Chandler.... By turns he's ferocious, witty, and uproarious, but what makes his fiction memorable is the gravitas of its dark portraiture of America."—The Boston Globe

"Ingenious...full of savage humor and originality [and] scorching brilliance...the author creates a nightmarish post-apocalyptic world that might have been envisioned by Walt Disney on acid."—The Philadelphia Inquirer

"Alarming and funny...Saunders invites comparison less to Aldous Huxley than to Kurt Vonnegut.... A debut of an original, darkly funny voice."—The Atlantic Journal-Constitution

"A savage satirist with a sentimental streak who delineates, in these pages, the dark underbelly of the American dream...Mr. Saunder's satiric vision of America is dark and demented; it is also ferocious and very funny."—Michiko Kakutani, The New York Times
Riverhead Books, 9781573225793, 192pp.
Publication Date: February 1, 1997
About the Author
George Saunders is the author of Lincoln in the Bardo;Tenth of December;In Persuasion Nation; The Brief and Frightening Reign of Phil; Pastoralia; CivilWarLand in Bad Decline; The Braindead Megaphone; and a children's book, The Very Persistent Gappers of Frip. His work appears regularly in the New Yorker, Harper's and GQ. In 2006, he was awarded a MacArthur Foundation "genius grant." In 2000, The New Yorker named him one of the "Best Writers Under 40." He is a 2013 National Book Award Finalist for Fiction. He teaches at Syracuse University."
or
Not Currently Available for Direct Purchase